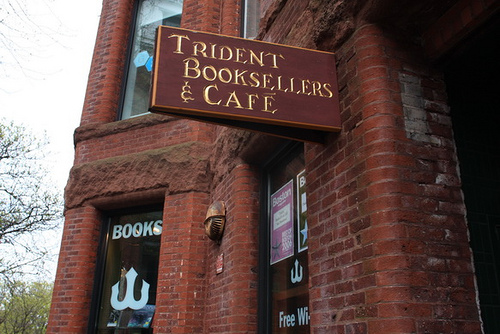 Trident Booksellers and Café in Boston will be closed until further notice following a fire late Wednesday night. Manager Courtney Flynn told the Boston Globe that the fire broke out in the dry storage area on the second floor about 11:45 p.m. Everyone was evacuated and firefighters responded quickly. The fire's cause has not yet been determined. Most of the damage was caused by water from the sprinkler systems.
"The water was ankle deep on both floors," said Flynn. "We have a lot of stuff to face, but there are so many things to be thankful for--the firemen came so quickly; the sprinklers did their job; there were people here who could respond quickly. Now we just have to see what shape the store is in, and see what we can save."

On Twitter last night, Trident wrote: "Thank you everyone for your outpouring of support after last night's fire. We have a great community in Boston and hope to be back up and running soon! While our doors may be closed, you can still shop our collection online."
Belmont Books in Belmont, Mass., posted on its Facebook page: "Our friends at the Trident Booksellers & Cafe in Boston had a fire in their store this morning. The fire department put it out pretty quickly, but unfortunately there's a lot of water damage and it will take some time for the Trident owners and staff to get the store back in shape again.
"What can you do to help? We're glad you asked. Buy gift cards! No, not from us--from them! Buy one for yourself, your friends, family, teachers, babysitters, dog walkers... anyone. The money will help the store get back on its feet, and when they re-open, you can all go together and get some truly excellent books. Now, go. Buy. Help. Thanks!"