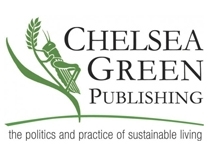 Chelsea Green Publishing will expand to the U.K. with the creation of a division that will have headquarters in London and led by Matt Haslum. Formerly marketing director at Faber & Faber, Haslum will start as managing director of the U.K. division this month and will be in charge of getting the London operation up and running.
"People are increasingly passionate about living better and more sustainably, and that why Chelsea green has huge opportunity for growth in the U.K.," said Haslum.
"We're thrilled to have Matt head up our new U.K. company," said Margo Baldwin, publisher of Chelsea Green. "He brings both tremendous book publishing experience as well as consumer-oriented digital marketing expertise."
The decision to start a new branch comes after Chelsea Green's U.K. sales have risen by 167% since 2015.