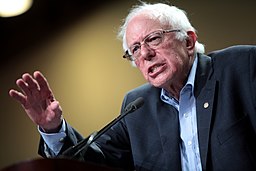 Bernie Sanders
BookExpo will host "An Evening with Senator Bernie Sanders" on the main stage at the Javits Center in New York City on Thursday, May 31, 6:15-7:15 p.m. The ticketed event will be available only to BookExpo attendees.
Sanders will discuss his upcoming book, Where We Go from Here (St. Martin's Press), which will be published immediately after the midterm elections in November. In it, he describes his opposition to Trump since the 2016 election, his efforts to bolster the progressive movement and his plans for how the U.S. can move forward as a nation.
A second-term Senator who, of course, ran for president in 2016, Sanders earlier was Vermont's representative in the House of Representatives for 16 years and was mayor of Burlington, Vt., for eight years. His last adult book was 2016's Our Revolution: A Future to Believe In. In 2017, he published the Bernie Sanders Guide to Political Revolution, aimed at teens and young readers.