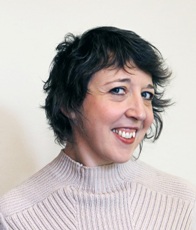 Mitzi Angel
Mitzi Angel will return to Farrar, Straus and Giroux as senior v-p and publisher later in 2018, the company announced today. From 2008 to 2015, Angel was in charge of FSG's Faber and Faber imprint, and mostly recently was publisher of Faber and Faber, Ltd., in London. As publisher of FSG, she will lead the company's editorial and marketing efforts and report to president Jonathan Galassi.
"I'm delighted to rejoin my friends and colleagues at FSG," said Angel, who began her career in publishing with Vintage and Fourth Estate. "They and the publishing house they work for, led by Jonathan Galassi, represent the best in publishing worldwide."
Over the years, Angel has worked with a host of high-profile authors including Chimamanda Ngozi Adichie, Rachel Cusk, Ben Lerner and Yiyun Li.
"The very first time I met Mitzi, I was bowled over by her unique combination of sensibility, warmth, openness, and decision, and I knew she was meant to work with us," said Galassi. "She has been a beloved and deeply respected presence here, and I'm certain she will make a vital contribution to our work as we look to the future."