"Winter is coming" is no longer a fictional warning from the pages of Game of Thrones for those of us who've just experienced our one millionth major "snow event" of 2018. House Stark didn't have to deal with more than 2,600 canceled flights and the stranding of who-knows-how-many passengers in A-B-C-D Concourses region-wide.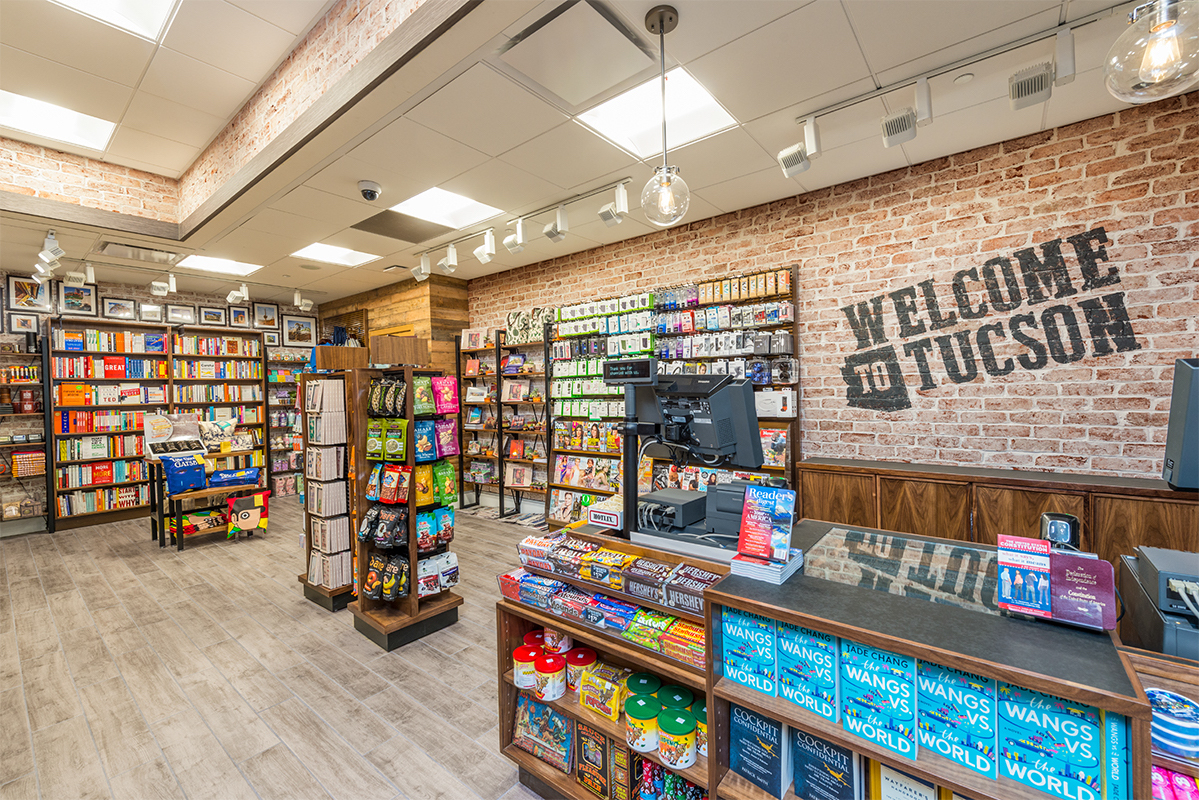 Ink by Hudson at TUS.
Yesterday, as I scanned the treeline outside my office for signs of White Walkers, I was also thinking about airport bookstores and "dwell time." A press release on my computer screen was headlined "Hudson Group Awarded 10-Year Contract Extension at Pittsburgh International Airport." It announced that "with over 10,900 sq. ft. in concession space, the contract includes the renovation of six stores." Among the brands represented is Ink by Hudson, the company's "latest bookstore concept featuring a contemporary style and indie-inspired ethos."
Eric Sprys, chief commercial officer of the Allegheny County Airport Authority, said PIT "is committed to providing passengers with an enhanced travel retail, food and beverage experience. Creating a sense of place is a major initiative as we move forward."
Dwell time is a phrase I first encountered last summer ("They're increasing dwell time"), and have since tucked safely away in my subconscious, most often recalling it when I find myself lingering in airport terminals or, more recently, sympathizing with others trapped there.
"One hour more at an airport is around $7 more spent per passenger," according to Julian Lukaszewicz, lecturer in aviation management at Buckinghamshire New University. Mental Floss noted a study that found "for every 10 minutes a passenger spends in the security line, they spend 30% less money on retail items. Last year, the TSA announced it would give $15,000 to the person who comes up with the best idea for speeding up security."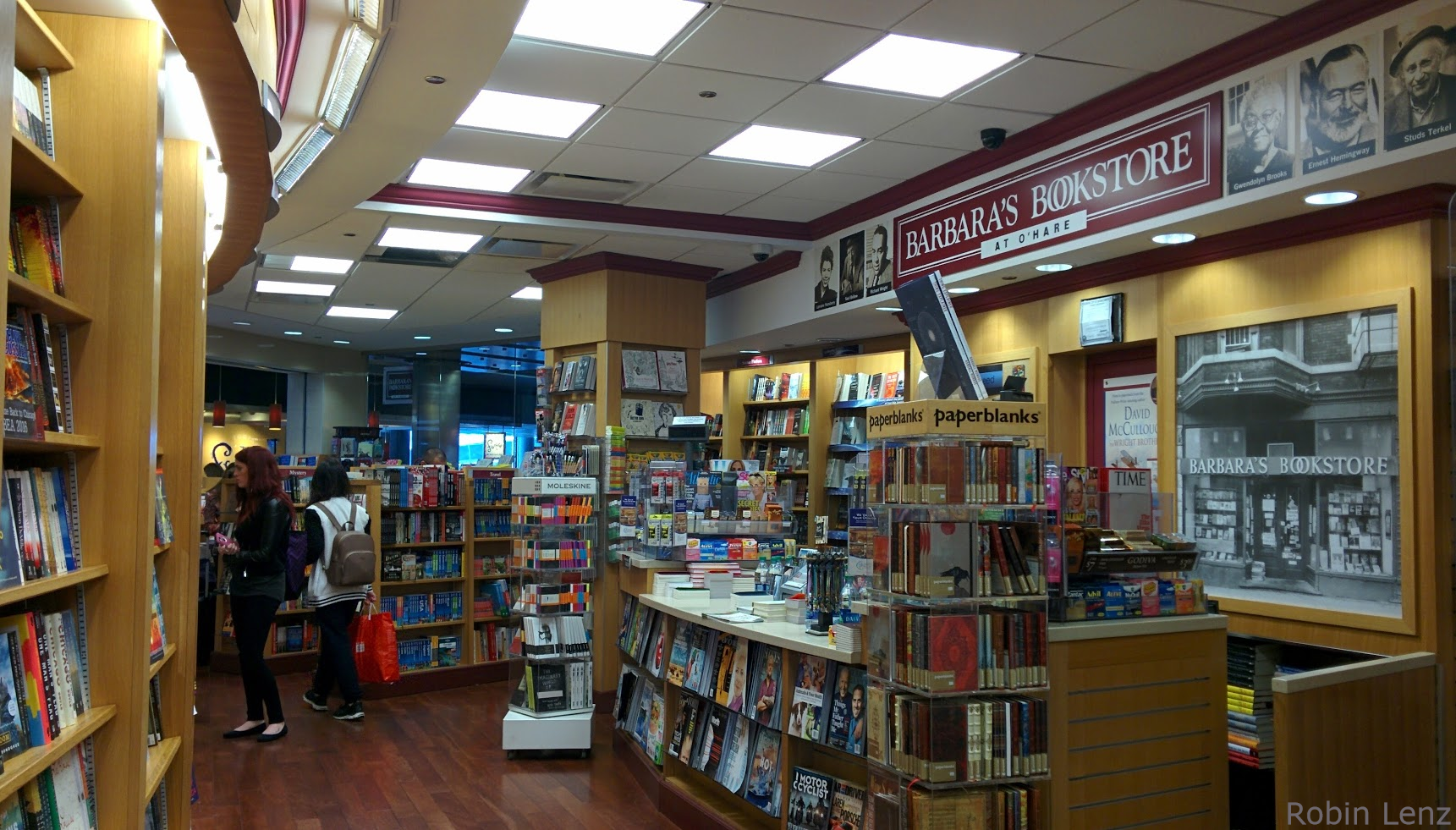 Barbara's Bookstore at ORD.
Hudson Group's bookish dwell time options also extend to joint airport relationships with several independent bookstores, among them Tattered Cover Book Store at DEN (where I've often spent money and quality time); Parnassus Books at BNA; Vroman's at LAX; BookWorks at ABQ; and the upcoming Elliott Bay Book Co. at Sea-Tac. Other concourse indies include Books Inc.'s Compass at SFO; Powell's Books at PDX; Books & Books at MIA; and Barbara's Bookstore at ORD.
"I've never had occasion to buy anything from an airport bookstore, and yet it gives me great comfort to know they're there," John Warner wrote in a 2016 Chicago Tribune piece ("There's something about airport bookstores"). "How many of you are this way? Maybe you get to the gate a bit early--I'm a two-hours-before-the-flight guy myself--and there, in the middle distance is a little Hudson's storefront. Though your shoulder aches already from your book-stuffed carry-on, you go and peruse, noting what intrigues, what you might turn toward if necessity strikes....
"While bookstores are important to me in the broader world, I think it is the opposite for many others. Being in an airport is one of the few times nonreaders may be confronted with the memory of how pleasurable reading can be. This proximity matters. Airport stores are mini-masterpieces of display, the most broadly enticing titles as prominent as possible. 'I've heard of that one,' someone might say. 'I should check it out.' "
Warner cited Emily St. John Mandel's Station Eleven, in which a group of survivors find shelter in an airport following a worldwide pandemic. "I remember thinking what a good idea that was, that there'd be enough books to last a long, long time." I know what he means. I felt the same way reading that novel. Call it dystopian dwell time.
On a hunch, I searched through some old travel-related blog posts and found a bookish dwell time moment from 2008. I'd been waiting at Philadelphia International Airport for a connecting flight to Atlanta, where I would be a panelist at a SIBA education session during the Great American Bargain Book Show (RIP).
Wandering around the terminal, I noticed a promotional sign at the entrance to a CNBC News shop: "Read Return. Buy it, read it, return it, to receive a 50% refund." I did not, as advised, ask the sales associate for additional information. It was, however, a distinctly Airport World moment in that peculiar dimension we inhabit--briefly, if we're lucky--after passing through security and until we emerge at baggage claim. Buy, fly, read, return. Two journeys for the price of, well, 1.5.
"The incongruity of preflight shopping might in some way be connected to the desire to maintain dignity in the face of what might be our end out there on the runway or in the skies," said author Alain de Botton, who, in 2009, was invited to be writer-in-residence at Terminal 5 in London's Heathrow Airport, an experience he chronicled in his aptly titled book, A Week at the Airport.
Noticing that the terminal's large WH Smith bookstore did not stock his books, de Botton writes that he nevertheless sought a recommendation from the shop's manager, explaining "that I was looking for the sort of books in which a genial voice expresses emotions that the reader has long felt but never before really understood; those that convey the secret, everyday things that society at large prefers to leave unsaid; those that make one feel somehow less alone and strange." Strangely resisting the temptation to handsell, the manager wondered if he might prefer a magazine instead.
That, I can say from experience, would never happen at Tattered Cover DEN, and I have the books to prove it.