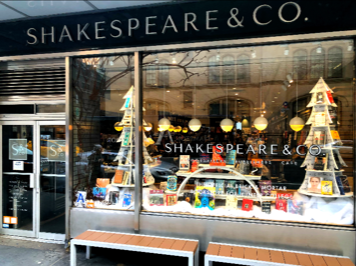 Shakespeare & Co. in New York City plans to open three new bookstores and a stand-alone café in what the company, which currently operates a Lexington Avenue store across from Hunter College, describes as "the initial phase of a larger planned expansion." Each bookstore will be about 3,000 square feet and feature "well-stocked and exquisitely curated" book inventory, a literary café with seating and wi-fi, and Espresso Book Machine.
The new locations include a bookstore on Manhattan's Upper West Side at 2020 Broadway (between 69th and 70th Streets) and in Greenwich Village at 450 Sixth Avenue near 11th Street. Both are slated to open during the fourth quarter of 2018. In addition, this summer, Shakespeare & Co. will launch a small café outside the Hunter College Subway Station on the southeast corner of Lexington Avenue and 68th Street.
The third new Shakespeare & Co. bookstore is opening in Philadelphia this summer in the historic Rittenhouse Square shopping area at 1632 Walnut Street.
"My vision for Shakespeare & Co. has always been to create the biggest little bookshop in the world," said CEO Dane Neller. "Each new bookstore should be rooted in the local community and offer a cultural sanctuary where customers can escape from their daily routines, turn off their smart phones, relax, unwind, and indulge in the luxury of reading." Shakespeare & Co. plans to open additional stores in other markets in 2019 and beyond.
Neller, a founder of On Demand Books, parent company of the Espresso Book Machine, told the New York Times: "We're never going to beat Amazon at Amazon's game, but I think there is a craving for going back to the old New York."
ABA CEO Oren Teicher agreed: "In New York, it was never about attracting the customers but about the landlords who kept raising the rent. Independent bookstores play a vital role in communities. There's a passion and a knowledge about putting the right book into the customer's hand, and it's something we do far better than anyone else."