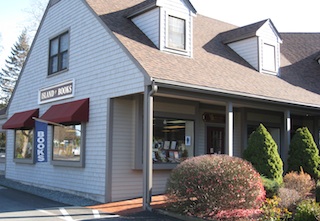 Congratulations to Island Books, Middletown, R.I., which is celebrating its 25th anniversary this week (starting this past Saturday and through Sunday, March 25), with a 25% discount on 100 staff favorites (through the end of the month), 25% discount on any book in the store or $25 off a purchase of $100 or more. There will also be daily raffles, refreshments and some giveaways throughout the week.
In the store's newsletter and on its website, Island Books owner and founder Judy Crosby wrote in part: "I have been blessed over these years to have the best booksellers around on my team and all for many years. Today Mimi keeps the store looking beautiful and well put together all the time, and picks out the best selection of greeting cards around. Nancy receives the books as they come in (a never-ending task), gets them out on the shelves for you to find, and selects the best books out there for our bargain table. Pat manages our incomparable local section, helps me in myriad ways behind the scenes to run a ship-shape shop and is a pro at finding you that perfect book. Rita has been a joy to work with... always going the extra mile to make you all feel right at home--we will miss her as she and her husband truly retire. And, last but not least, Sally makes me look good and sound smart week after week in this newsletter--it would not get done if left to me to do! A good bookstore has good books, but a great one has extraordinary booksellers! I am grateful to my team!
"You, our customers--what can I say but thank you, thank you thank you. Without you and your support over these 25 years we would not have survived the challenges we've faced in this business, and because of you we have truly thrived! I am extremely grateful for your loyalty and your business--you reinforce my belief that an independent bookstore is an important part of any community."