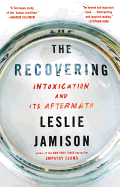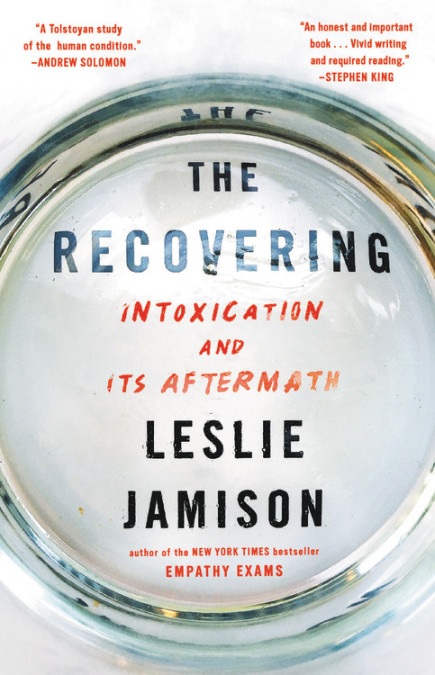 The recovery memoir has been a genre unto itself since James Frey's controversial bestseller A Million Little Pieces hit shelves in 2003. Some of the heaviest hitters include Mary Karr's Lit, Carrie Fisher's Wishful Drinking and Augusten Burroughs's Dry, and they follow similar arcs: a slippery slope of intoxication snowballs into a tailspin toward rock bottom, where the author gathers support to choose sobriety and pull her life back together. The goal isn't perfection, it's stability.

While Leslie Jamison is on very much the same journey in The Recovering, her scope is significantly broader. Uninterested in telling her own story as if it occurs in a vacuum, she draws together several others', as well as their contributing social forces. What does it mean to be a white woman struggling with addiction? What does it mean for a writer to be an alcoholic? The result is a staggering investigation into cultural assumptions about addicts, and a necessary critique of a literary scene that idolizes the drunken genius.

In her essay collection, The Empathy Exams, Jamison more than proved herself as an incisive witness to the complicated, messy lives people lead. Her blend of reportage and personal insight, in the tradition of Joan Didion, is on full display here. At the Iowa Writers' Workshop, "I spent my days reading dead drunk poets and my nights trying to sleep with live ones." As her life spirals into dark places, Jamison contends with the legacies of other literary lushes.

Charles Jackson with The Lost Weekend and John Berryman with The Dream Songs--these men, among many others, garnered reverence for their vices. Meanwhile, women such as Jean Rhys (Wide Sargasso Sea) and Billie Holiday (Lady Sings the Blues) drew only scorn for theirs. "Dogged by the justice system's double standards all her life," Jamison notes about Holiday, "she wasn't granted the same unfettered access to the same addict mythologies as windblown Berryman."

Moreover, Jamison digs into Bill Wilson's history and the 12-step program he spawned. Alcoholics Anonymous becomes a touchstone for her, although like many a writer, she balks at its reliance on truisms to offer hope. "Perhaps this resistance to cliché was just one symptom of my refusal to accept the commonality of my own interior life." Later, however, when challenged during her dissertation to present a case for addiction as a creative force, she breaks through to something fresh: "Thinking of addiction in terms of generative variation is the luxury of someone who hasn't spent years telling the same lies to liquor-store clerks."

At times, the book gets mired in overly repetitive dramas with thinly drawn boyfriends, but perhaps even here readers can gain insight into how everything else pales in comparison when the alcoholic needs another drink. More than most, The Recovering focuses on the aftermath--the frustrating realities and surprising joys of staying sober. And in this way, it ultimately transcends the genre. Instead of shaping her story into a predictable arc, Jamison emphasizes the perennial nature of recovery. Stability is indeed a humble, messy persistence within a culture that craves simple narratives about addiction and sobriety, genius and madness. --Dave Wheeler, associate editor, Shelf Awareness

Shelf Talker: Empathetic and unflinching, The Recovering offers a refreshing antidote to narratives that would marry substance abuse to creativity.