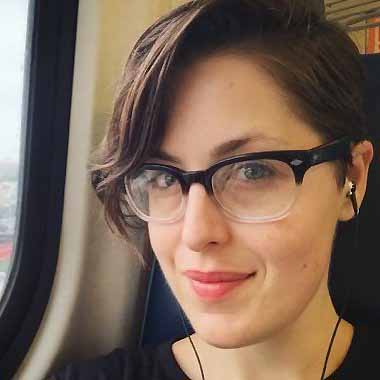 Jaime Green
Jaime Green has been named romance columnist for the New York Times Book Review. The quarterly romance column will debut in the Summer Reading issue of the Book Review in June. A writer, editor and teacher, Green has written about books for numerous publications, including Slate, Vulture, Thrillist, Electric Literature, the Morning News, Unbound Worlds and BuzzFeed. Previously, she was the managing editor of Google Play Editorial, where she oversaw original content for Google Play Books and interviewed authors for the Talks at Google series. She is a contributing editor at Catapult and the series editor for Best American Science and Nature Writing.
"We're thrilled to have Jaime writing about romance for the Times," said Tina Jordan, the editor who will oversee the column. "This is an enormous and rich genre brimming with novels that celebrate women, love, sex and--last but definitely not least--equality. Jaime's a wide-ranging reader, and she'll be diving into as many sub-genres as she can."
Green said she "came relatively late to reading romance, but I realize I was primed for it by my teenage near-obsession with Jean M. Auel's Earth's Children series. But in the last several years, romance has become a beloved and important part of my reading life. It's where I find some of the literary world's smartest, funniest and most thoughtful writing about relationships--romantic relationships, of course, but friendship and family, too. Romance balances escapist fantasy with astute reflection on the real world, providing a lens through which we can think about love, sex, money, politics, relationships and power. These books hold the whole world in them, and with the promise of a happy ending, they give us the hope and happiness we need to stay optimistic in a challenging world."