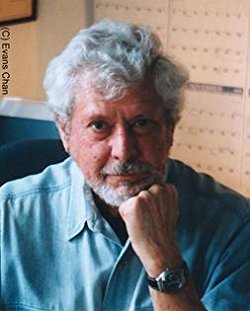 Russell Freedman
Russell Freedman, an award-winning author of nonfiction books for young readers, died March 16. He was 88. His first book, Teenagers Who Made History, was published by Holiday House in 1961. He went on to publish more than 60 titles on subjects ranging from animal behavior to American history to artistic portraits of Martha Graham and Marian Anderson. The Sinking of the Vasa, an illustrated picture book, will be published posthumously by Henry Holt.
Freedman's work has garnered numerous awards, including the Newbery Medal for Lincoln: A Photobiography and three Newbery Honors, for Eleanor Roosevelt: A Life of Discovery; The Wright Brothers: How They Invented the Airplane; and The Voice That Challenged a Nation: Marian Anderson and the Struggle for Equal Rights. He was honored twice at the White House, and also received the Regina Medal, the May Hill Arbuthnot Lecture Award, the Orbis Pictus Award, the Sibert Medal, a Sibert Honor, the Laura Ingalls Wilder Medal for "a lasting and substantial contribution to children's books" and the National Humanities Medal.
In 2000, he published Holiday House: The First Sixty-Five Years, a history of the independently owned children's book publisher. John Briggs, who was at the helm of Holiday House for more than 50 years, said, "My relationship with Russell spanned 51 years. His record speaks for itself. Perhaps not so apparent are his character and integrity, which are as evident in his work as is his talent as a writer. He was a dear friend, a blessing in my life."
Mary Cash, his editor at Holiday House, said, "Editing Russell was a privilege and a joy. Each of his books illuminated the topic and provided multiple alternative perspectives, all in stunning, crystal clear prose. On top of that he was one of the loveliest and most conscientious people I've ever met."
Dinah Stevenson, his editor at Clarion Books, said Freedman was "the consummate professional. Every brilliant manuscript he delivered was in perfect order, complete with back matter and images. Some 30 years ago, I was timid about offering editorial suggestions to such a luminary, but he welcomed my input and trusted my judgment. He dedicated his last Clarion title to me, an honor I cherish. He was a dear friend and I will miss him."