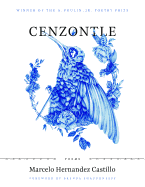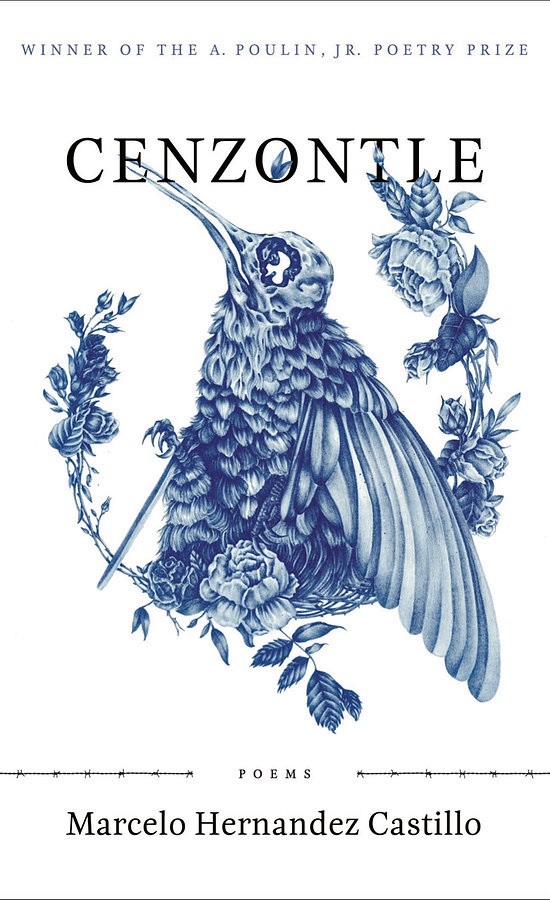 To enter Marcelo Hernandez Castillo's first collection of poems is to cross that vague border between realism and surrealism where images and sounds pile up to create a world unto itself. A once undocumented immigrant, the son and grandson of undocumented Mexicans, Castillo wears his race and origin pinned to his chest. Married to a naturalized citizen, he finally received a green card in 2014. Cenzontle is a highly personal trip into the often conflicted and confused heart of a man forced to subsist in the shadows of citizenship, race and sexuality where, like the mockingbird of its title, his poems replicate the songs already ringing around him and are shaped by "the echo/ and its echo."

Castillo's work takes many forms and touches many moments of memory and passion. "Musical in Which You and I Play All the Roles," for example, is broken by half pages of white space as if to shift scenes. Centered on erotic romance, the narrator plays his "roles," including lusting after the "shy boys in the dark" where he imagines "trying to peel off all their tattoos with my tongue." The erotic pulse continues to beat in "Sub-Erotica Papers," as the narrator reflects: "Neither of us knew/ what we wanted/ but would do anything/ to have it." It appears again in "Fifteen Elegies" with the observation: "Kissing was sometimes like that--/ when it had nothing to do with mouths."

Eroticism, maternal love, paternal abuse, immigration, politics--they all find a place in Castillo's world. He speaks of farmworker deaths by exposure to pesticides and the bodies of those crossing to the other side afloat in the Rio Bravo. In "Sugar," a boy endures a father's whipping with a belt nicknamed Daisy: "And after it's over, we know we have both become men./ Him for the beating,/ and me for taking his beating." Stringing this diverse collection together is the striking surreal imagery throughout, like that in "Wetback," where a bullied young Mexican immigrant narrator admits: "I wanted to dance by myself in a dark room/ filled with the wingless bodies of bees."

A translator, essayist, and co-founder of the activist Undocupoets group, Castillo references his poetry to that of modernists like Larry Levis, W.S. Merwin and Tomas Tranströmer in an afterword. Cenzontle is a rewarding, immersive experience into the mind and heart of an American immigrant who isn't afraid to sing the songs he hears--discordant and off-key as they often seem. --Bruce Jacobs, founding partner, Watermark Books & Cafe, Wichita, Kan.

Shelf Talker: The first poetry collection of once undocumented immigrant Marcelo Hernandez Castillo embraces the imagery and sounds of a life snipped from its roots.