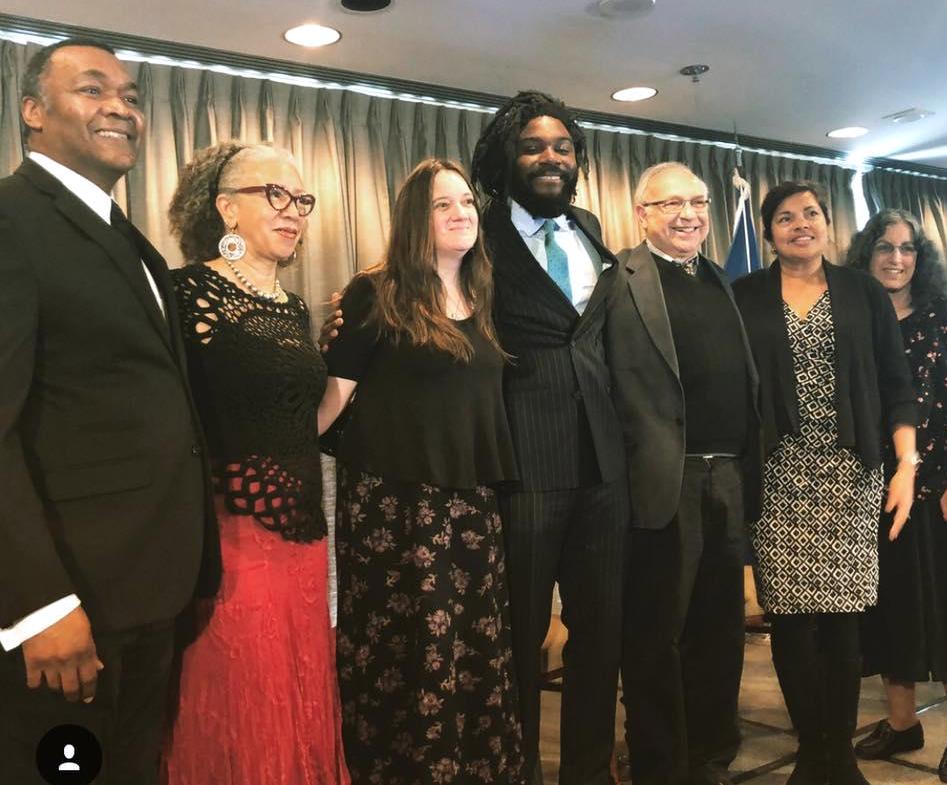 Winners (l.-r.) Eric Velasquez, Carole Boston Weatherford, Sara Luce Look, Jason Reynolds, Francisco X. Stork, Mitali Perkins and Margarita Engle (photo: E.R. Anderson)
We Need Diverse Books and the Library of Congress hosted the third annual Walter Dean Myers Awards for Outstanding Children's Literature on March 16. This year's awards expanded to encompass two categories: Teen (ages 13-18) and Younger Readers (ages 9-13). The winners are Jason Reynolds for Long Way Down (Teen Category) and Carole Boston Weatherford and Eric Velasquez for Schomburg: The Man Who Built a Library (Younger Readers). The honorees are Mitali Perkins for You Bring the Distant Near (Teen Category), Francisco X. Stork for Disappeared (Teen) and Margarita Engle for Forest World (Younger Readers).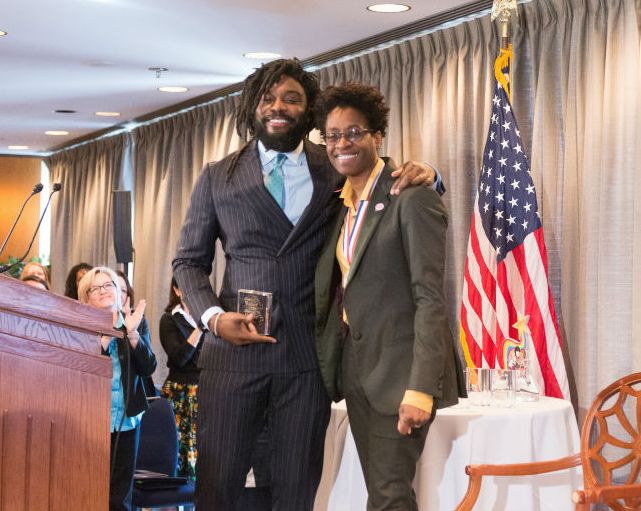 2018 Walter Award winner Jason Reynolds (left) with Jacqueline Woodson. ​​(Photo courtesy of the Library of Congress.)
Sara Luce Look, co-owner of Charis Books and More, Atlanta. Ga., was honored with the first #WeNeedDiverseBooks Bookseller of the Year Award at the ceremony. Introducing the award, Jacqueline Woodson, the newest National Ambassador for Young People's Literature, who emceed the event, said, "It is a truth universally acknowledged that every diverse book is in need of a bookseller to handsell it. Of all the gatekeepers in the publishing industry, booksellers may be the most important, as people who both curate collections, and get books into the hands of readers who will purchase them. They have the power to create bestsellers. But more vitally, they have the power to represent--meaning that children can go to their stores and either search in vain for books that reflect their world, or smile when they see themselves on the shelf."
The event was held at the James Madison Memorial Building of the Library of Congress. The ceremony was preceded by a symposium on diversity in children's literature, "Seen and Heard: The Power of Books," moderated by Newbery medalist Linda Sue Park. (Watch the livestream here.)
WNDB will donate a minimum of 2,000 copies each of the 2018 Walter Award-winning titles, Long Way Down and Schomburg, to schools with limited budgets across the U.S.