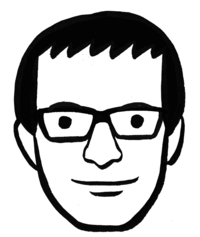 With this issue, Shelf Awareness is happy to welcome back the Stand Up Comics column (see below) and its author, Adan Jimenez, who is once again writing about comics in general and highlighting great comics that booksellers can handsell to customers.
Born in California the son of Mexican immigrant parents, Adan became an immigrant himself when he moved to Singapore after completing his studies at New York University. He has worked for comic book stores, bookstores, and gaming stores--and loves comics. Also, with his wife, Felicia Low-Jimenez, he is author, under the joint pen name of A.J. Low, of the Sherlock Sam series, published in the U.S. by Andrews McMeel. The books are an update of the classic Sherlock Holmes detective stories and feature Sherlock, a 10-year-old boy living in Singapore, and his trusty robot companion, Watson.
Adan is happy to receive information about and e-galleys of comics of all kinds--all genres, all age groups, all publishers and all authors. Please note that Shelf Awareness Pro and Shelf Awareness for Readers review department also continues to run reviews of comics and graphic novels; review copies for those should continue to be sent to our Seattle office.