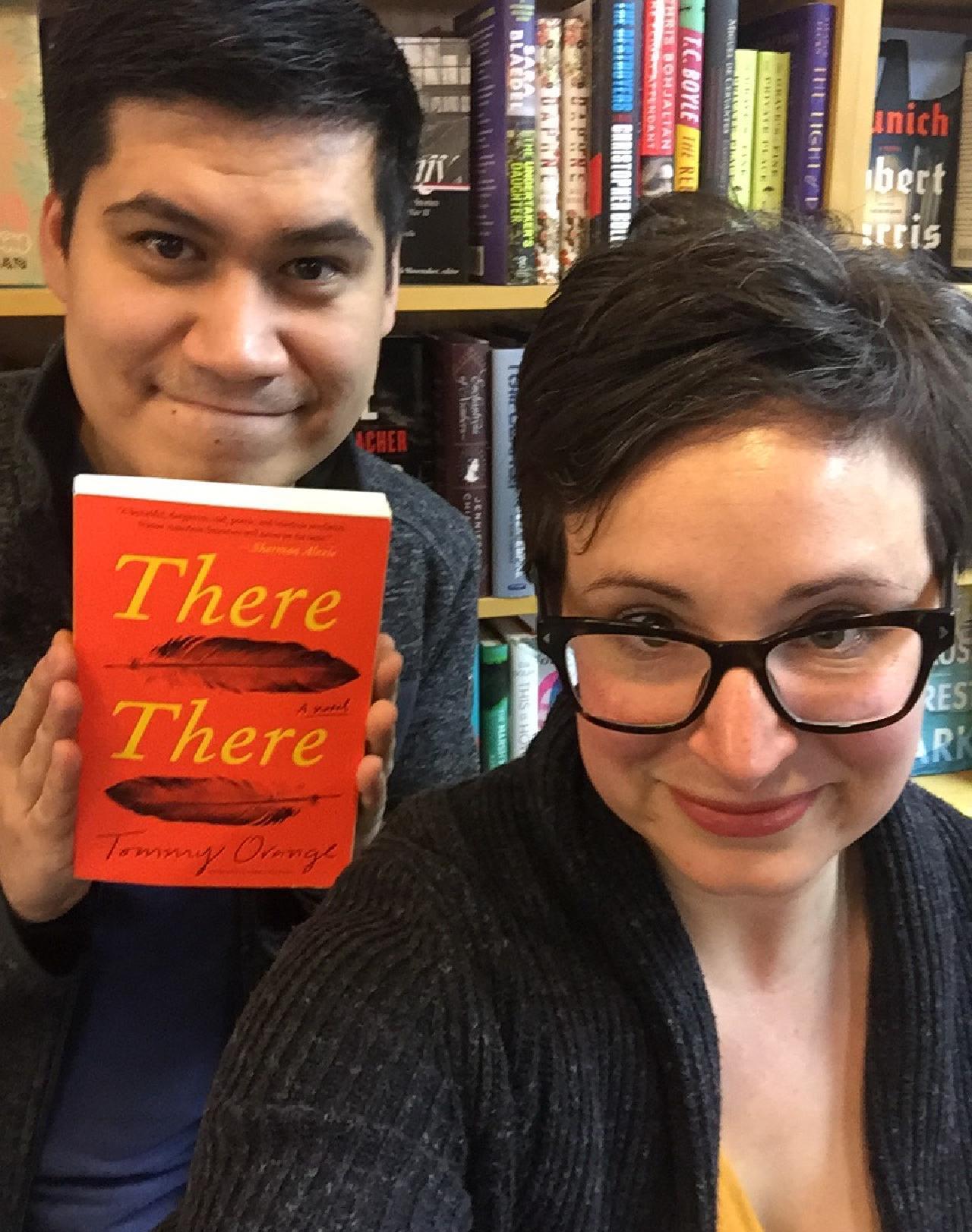 Timothy Moore and Katharine Solheim, with the group's first selection.
Katharine Solheim and Timothy Moore, booksellers at Unabridged Bookstore in Chicago, Ill., have created the Chicago Booksellers' Book Club, a frontlist reading group for Chicago-area independent booksellers. The group will have its first formal meeting on April 22, at the Grafton Pub in Lincoln Square, to discuss Tommy Orange's first novel, There There, coming from Knopf on June 5.
Solheim and Moore have envisioned the book group as a resource for Chicago booksellers, a way for them to come together in support of a forthcoming title they love. Every two months or so the group will meet to discuss an upcoming frontlist book, and in addition to the things that book groups usually talk about--what they enjoyed, how they felt reading the book--they'll talk about ways to help bring the book to a wider audience and other bookselling practicalities.
"When we struck on the idea of the frontlist book club, we thought, why haven't we been doing this already?" said Solheim. She noted that though booksellers are often talking to each other about books they're excited for, the book club gives Chicago indies a space set aside on a regular basis for "getting down to brass tacks" about "books we love and want to promote."
Solheim added that ideally, during each meeting the group will talk about a title that is at least a month or two out from publication. That way, should any bookseller want to increase their order numbers or adjust their plans for promoting the book, they'll have ample time to do so. At the same time, Solheim said, "You don't want to do it so far in advance you forget you talked about it."
For the April meeting about There, There, Solheim said she and Moore have not come up with anything "super formal" in terms of discussion questions. But she thought that some big topics will likely be the "new guard" of Native American literature, authors like Tommy Orange and Terese Marie Mailhot (Heart Berries), and what booksellers can do to help lift up these new voices. Leading up to the April 22 discussion, Solheim and Moore are using the Twitter and Instagram accounts they created for the book club to link to as many resources as they can find relating to Tommy Orange and There There. Remarked Solheim: "That is what that Twitter account is for--secondary sources."
The idea to start a frontlist-focused book group came to Solheim and Moore earlier this year, after they had an informal book discussion with other booksellers about Emily Fridlund's History of Wolves. That group, Solheim recalled, arose simply from a bunch of booksellers wanting to read a book together and then talk about it. During that February meeting, the booksellers present discussed things like their perspectives on the book and what audiences might respond to it best.
Not long afterward, Moore and Solheim talked about formalizing the group, and from there decided to focus on frontlist titles. The initial, informal meeting drew 10 booksellers. For the first formal meeting, they are hoping 15-20 people will attend. Any more than that, Solheim said, would make finding a suitable space trickier, and probably necessitate having the book club split into small groups.
Solheim said she's excited to see how the group grows and develops over time. Like all book groups, she continued, it will "take on a character of its own as it goes along." And when asked how other booksellers have responded to the idea, Solheim reported that "people seem to be pretty stoked."
At the end of each meeting, the group will decide which title they want to read next. For that, Solheim said she expects there to be a "heated debate."
"I'm hoping no one draws blood," she added, laughing. --Alex Mutter