Tomorrow will be
Lawrence Ferlinghetti's 99th birthday.
Wednesday was World Poetry Day.
Just two sentences
could be this week's column
or a poem.
"Why San Francisco?" the Chronicle asked Ferlinghetti in a recent interview.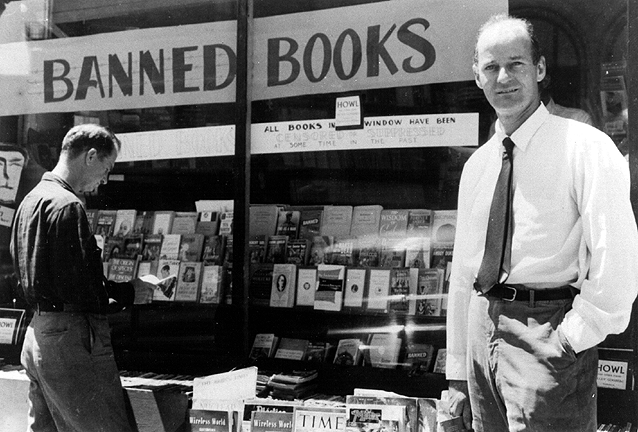 Lawrence Ferlinghetti in front of City Lights Books, 1955
"It seemed like it was still the last frontier, which it isn't anymore," he replied. "I mean, in 1951, it was a wide-open city, and it seemed like you could do anything you wanted to here. It was like there was so much missing that if it was going to be a real city, there was so much that it had to get, that it didn't have. And, for instance, as far as bookstores go, all the bookstores closed at 5 p.m. and they weren't open on the weekends. And there was no place to sit down. And there was usually a clerk on top of you asking you what you wanted.
"And so the first thing I realized, there was no bookstore to become the locus for the literary community.... So, from the very beginning, when we started City Lights in June 1953, the idea was to make it a locus for the new literary community that had developed out of the Berkeley Renaissance, so called, and it proved to be true. People just flocked to it because there had been no locus for the literary life."
Why World Poetry Day? To open her annual message celebrating the occasion, UNESCO Director General Audrey Azoulay quoted the Langston Hughes poem "Dreams," and said: "This poem is about the extraordinary power of words that open up infinite horizons, enhance our lives, change reality, embellish it, show it in a new light which has never been seen before. Poetry is not a trivial game of sounds, words and images: it has a creative, transformative power."
During #WorldPoetryDay, I kept watch on social media's explorations of the realm (Among my favorites: @doctor_oxford, @kwamealexander, @brainpicker, @BBCAfrica, @britishlibrary, @SpursOfficial).
I was looking for signs of "transformative power," and found one in "Dear Vikram Seth," Ishita Sengupta's "open letter to my favorite poet," published by the Indian Express.
"You might not remember this, but the year was 2014 and the place was Victoria Memorial. A crowd, buzzing with anticipation had gathered to hear Naseeruddin Shah read Manto," Sengupta begins, then tells the story of being with a "giggly crowd of college students" when she spotted Seth, "sitting, alone in the last row."
Having just bought his poetry collection All You Who Sleep Tonight, she, along with her friends, "finally mustered some courage to put up a collective front. Perhaps recognizing the awe writ large on our faces, you stood up the moment we came near to your seat. Almost overwhelmed, I asked you to sign your name for me. 'But where, Miss?' you asked. It struck me, and perhaps, all of us then, that we had walked up to you without a shred of paper in hand." She quickly found some and returned.
"It has been four years since then," Sengupta wrote. "I do not live in the same city anymore.... Your note, however--now tattered and a bit incomprehensible--has remained with me. And so have your words. The puny book, which I have gifted to more people than I can count, was brought by me while I was shuffling cities. And while I have gushed over your words with friends within the safe confines of university, they spoke to me later. They spoke to me when I read them in isolation, crippled with nostalgia and yearning, and on nights, I could not and had resolutely decided that I would not sleep."
All you who sleep tonight
Far from the ones you love
Know that you aren't alone
The whole world shares your tears
Some for two nights or one
And some for all their years.
"Your words acknowledged my grief but also assured me, comforted even by telling me that I was not the only one," Sengupta observed. "Perhaps never will be. Grief might be private but it was not unique.... Thank you for the words, Mr. Seth."
It's a big world in a bigger universe. Gratitude seems to be the best response.
For World Poetry Day, the Independent featured a video of Stephen Hawking, who died last week, reading Sarah Howe's poem "Relativity."
"I'm there in spirit all the time," Ferlinghetti said of City Lights.
"How about in reality? How often is he at the shop?" the Chronicle asked.
"As a poet, I don't deal in reality," he replied with a laugh.