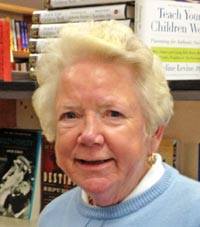 Nancy Salmon
Bookseller and ardent reader Nancy Salmon, "an institution within a Menlo Park [Calif.] institution" for 17 years at Kepler's Books, died March 12, the Almanac reported, adding that Salmon "would talk books with people interested in reading and buying them. As a critical reader, she was popular with authors, publishers and publicists."
Salmon was "first and foremost a reader across many genres," said Kepler's manager Amanda Hall. "If she liked a book, she told you why. If she didn't like a book, she told you why.... Because of the breadth of her reading, she was a true asset of ours because she could reach so many readers. You could disagree with her about a book, but it was still a great conversation."
In a January 2016 letter to Kepler's when she went into semi-retirement, Salmon wrote: "I have always believed that the human element is important. It's why I believe in independent businesses. I believe in Kepler's as a cultural hub in this area and one of the peninsula's great assets. We are not an algorithm. We are individual resources who actually know the product we sell. We read the book review and we know what's on our tables. Our customers expect that of us, and they come back to us because of it."
In a Facebook announcement of Salmon's passing, Kepler's wrote: "Nancy shared her love of great stories and literature with the Kepler's community for nearly two decades--we will truly miss her!"