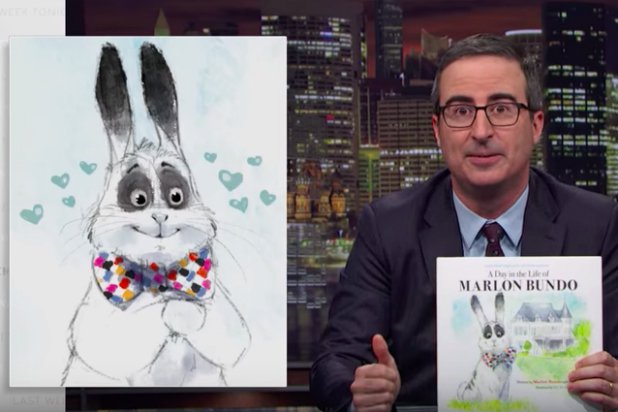 Chronicle Books, publisher of A Day in the Life of Marlon Bundo, the surprise illustrated children's book by John Oliver, is continuing its efforts to supply its accounts--particularly independent booksellers, who were unhappy that the book was initially, in effect, an Amazon exclusive. Within days of publication, Chronicle went back for a second printing of 400,000 copies through multiple printers, and made it a priority for its distributor, Hachette, to fill indie orders.

"We have moved through the first batch of indie orders, wholesalers and some national and Canadian orders," Chronicle president Tyrrell Mahoney said yesterday. The company is now out of stock but "more copies are hitting the warehouse Monday," April 2.
Mahoney has been explaining the situation and apologizing, contacting some booksellers personally and sent an open letter to the ABA and regional booksellers associations. In the letter, she wrote, in part, "On behalf of Chronicle Books, I apologize for any frustrations you have experienced these past few days following the launch of Last Week Tonight with John Oliver Presents A Day in the Life of Marlon Bundo. I hope you know from your history working with us as an indie ourselves that this was certainly not our intention....
"While its launch isn't how we'd normally go about business, none of us predicted how phenomenally viewers and readers would respond to John Oliver's announcement.... Our #1 goal right now is to get this book into your store and into those eager readers' hands."
Noting "the slow pace in supplying inventory to stores over the past few days," ABA CEO Oren Teicher commented: "To say the least, we were very disappointed that Chronicle/HBO failed to give independent bookstores a timely heads-up about this title, so that all channels would have had the opportunity to sell the book once it was announced. ABA has spoken at length with Chronicle over the past few days, and we hope it's a teachable moment for all in our business. Indie bookstores are used to taking all necessary steps to protect the confidentiality of title information, including signing of affidavits, and would certainly have done that in this instance given the chance. ABA firmly believes that our industry is stronger when we can all compete on a level playing field, and, conversely, that providing one channel a competitive advantage is, in the end, bad for everyone."
The experience continues to leave a bad taste for many indies. Brad Johnson of East Bay Booksellers, Oakland, Calif., wrote over the weekend, "Thus far, I've only had curious inquiries about the book, and no actual orders. Given the way it was rolled out, I have no intention of stocking it. (I will order if people want a copy, and if it is available.)"
And in an open letter to Chronicle, James Conrad, owner of the Golden Notebook Bookstore, Woodstock, N.Y., complained that Chronicle should have objected to the way the book was published and pointed out that indies help sell Chronicle products in a manner that Amazon can't: "Chronicle Books is made up of rather particular point of sale types of titles. [They are] the kind of books and novelty items that require booksellers to display them in their brick and mortar stores and get behind them to make them move. An internet page cannot do that."
John Oliver made the initial announcement about the book a week ago Sunday night on Last Week Tonight, telling viewers it was available immediately at Amazon. Indies and many others were unable to get copies as demand for the book soared beyond its 40,000-copy first printing. The book jumped immediately to No. 1 on Amazon and sold out there in less than an hour. The book was also initially available at Chronicle and at Oliver's betterbundobook.com.
Last week, after indie criticism mounted, Oliver's show tweeted a link to IndieBound, suggesting that fans who wanted to buy a copy of the book from independent bookstores could go there.
Despite their unhappiness with how the book has been rolled out, many booksellers remain drawn to the story and the cause: in the book, Marlon Bundo, the Bunny of the United States (BOTUS), falls in love with another bunny, Wesley. The two decide to wed, only to be told by the Stink Bug in charge that same-sex marriage is not allowed. When Marlon, Wesley and their supportive animal community realize that they can choose who is in charge of their society, they vote out the Stink Bug and the couple is married, surrounded by their friends.

All of the profits from Oliver's book benefit the Trevor Project, which provides crisis intervention and suicide prevention services to LGBTQ young people, and AIDS United, which aims to end the AIDS epidemic in the U.S.

Oliver's A Day in the Life of Marlon Bundo was released a day before Marlon Bundo's A Day in the Life of the Vice President, a picture book about the Second Family's rabbit written by Charlotte Pence, Vice President Mike Pence's daughter, illustrated by his wife, Karen Pence, and published by Regnery Kids. Some of the proceeds from their book will go to A21, an organization that fights human trafficking.
Charlotte Pence was very gracious after the John Oliver announcement, telling Fox Business last week: "I think imitation is the most sincere form of flattery in a way. But in all seriousness, his book is contributing to charities that I think we can all get behind. We have two books that are giving to charities that are about bunnies, so I'm all for it."

Ironically, John Oliver's attention might have helped boost sales of the Pence book: like Oliver's book, it's back-ordered and out of stock at many book retailers.