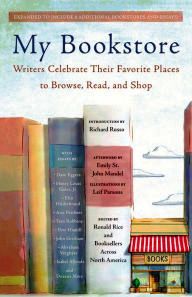 Not long after reading Ronald Rice's My Bookstore: Writers Celebrate Their Favorite Places to Browse, Read, and Shop, printing professional and self-professed "bibliomaniac" Paul Golden decided to support independent bookstores in a novel way: by buying a book from each of the 82 bookstores mentioned in My Bookstore.
He began in 2013, buying Abraham Verghese's Cutting for Stone from Prairie Lights Books & Cafe in Iowa City, Iowa. From there, he created a list on his computer of "the 82" and began ordering books, pretty much in the sequence they appear in the table of contents of My Bookstore. Golden said he now has only 20 stores left to go, but he did note that, unfortunately, quite a few of the featured stores have closed permanently, before he was able to make a purchase.
When it comes to deciding what book to buy next, Golden said he usually browses the New York Review of Books until he finds something that sounds interesting and does not make a point of trying to buy a book that has some connection to a given store or the My Bookstore essay. The one exception to this was Cutting For Stone--Verghese himself wrote the article about Prairie Lights. Golden does, however, make a point of asking for a bookmark or "some other ephemera from their shop" to have as a keepsake.
Golden reported that the last bookstore on his list is The Bookloft in Great Barrington, Mass., and he has no idea which book will be his final purchase. Once he's completed the project, he continued, he plans to re-read My Bookstore and "try to draw some mental image or connection between the essay in the book and my own interaction with the bookseller at those shops."
He added that it has been "fascinating speaking with book people around the country," and "without exception the response to my project has been met with interest and gratitude."