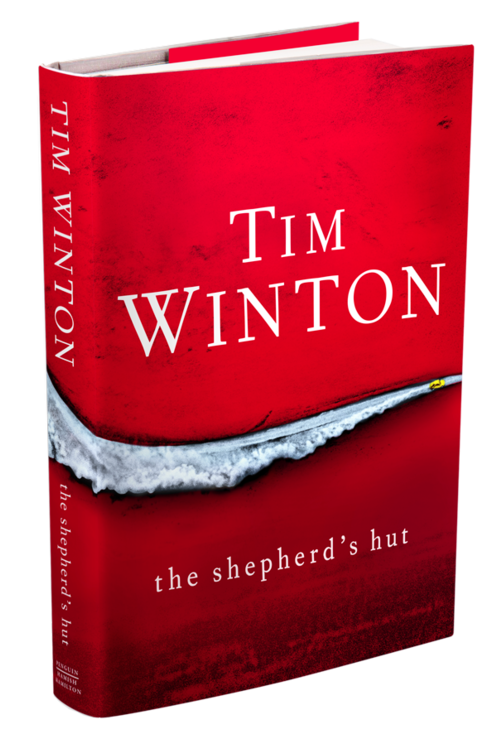 I'm waiting for a book. Tim Winton's novel The Shepherd's Hut was released earlier this month in Australia, and will be published June 19 by FSG in the U.S. I don't have to delay the pleasure of reading one of my favorite authors. There are magic spells and secret portals in our book world through which I could acquire this title in some form, but I won't do that. Sometimes waiting is part of the process, part of the pleasure.
It's like... surfing.
In addition to being one of Australia's greatest authors, Winton is a lifelong, dedicated surfer. "Waiting sharpens the senses," he writes in Island Home: A Landscape Memoir. On the surface of that sentence, he's contemplating the long moments spent patiently waiting to catch the right wave before springing into short-lived action. Beneath the surface, and because he's Tim Winton, there's so much more at stake. The sentence is bookended by these words:
This was how I came to understand nature and landscape. By submitting. And by waiting. Waiting sharpens the senses. Which is to say it erodes preconceptions and mutes a certain kind of mental static; the clutter and glare in the foreground recede. Immersion and duration are clarifying. While waiting for the next set, for the wind to change, or the tide to turn, I had thousands of hours in which to notice things around me.
What does surfing have to do with reading, or with me? Well, for five years in the 1980s, I was managing editor of a windsurfing trade magazine called Sailboard News. I spent more time than I would ever have previously imagined with surfers. For many of the retailers I interviewed, surfing, windsurfing and sailing were inextricably linked. Reading the water and wind was their job description. Once, flying over the West Indies, I was sitting beside two colleagues who excitedly read island wave breaks thousands of feet below us.
So it's no accident that surfing/reading analogies might bob to the surface of my brain decades later, as I think about why I sometimes choose to wait for a new book the way Winton lets the right wave to come to him.
Although I'd known this novel was on the horizon for some time, my anticipation for The Shepherd's Hut really started to build early this month as I watched a digital wave of excitement wash over Aussie booksellers on social media:
Avid Reader Bookshop, Brisbane: "It's here! Tim Winton's latest book The Shepherd's Hut has officially hit the shelves."
Pages & Pages Booksellers, Mosman: "Your weekend reading. Sorted."
Abbey's Bookshop, Sydney: "When you enter #abbeysbookshop #131york #sydney this is what you're looking for. NEW TIM WINTON."
Fairfield Books, Fairfield: "We are open today until 3pm so you have plenty of time to get the new Tim Winton!"
Not Just Books, Burnie, Tasmania: "The new book from Tim Winton--The Shepherds Hut has arrived."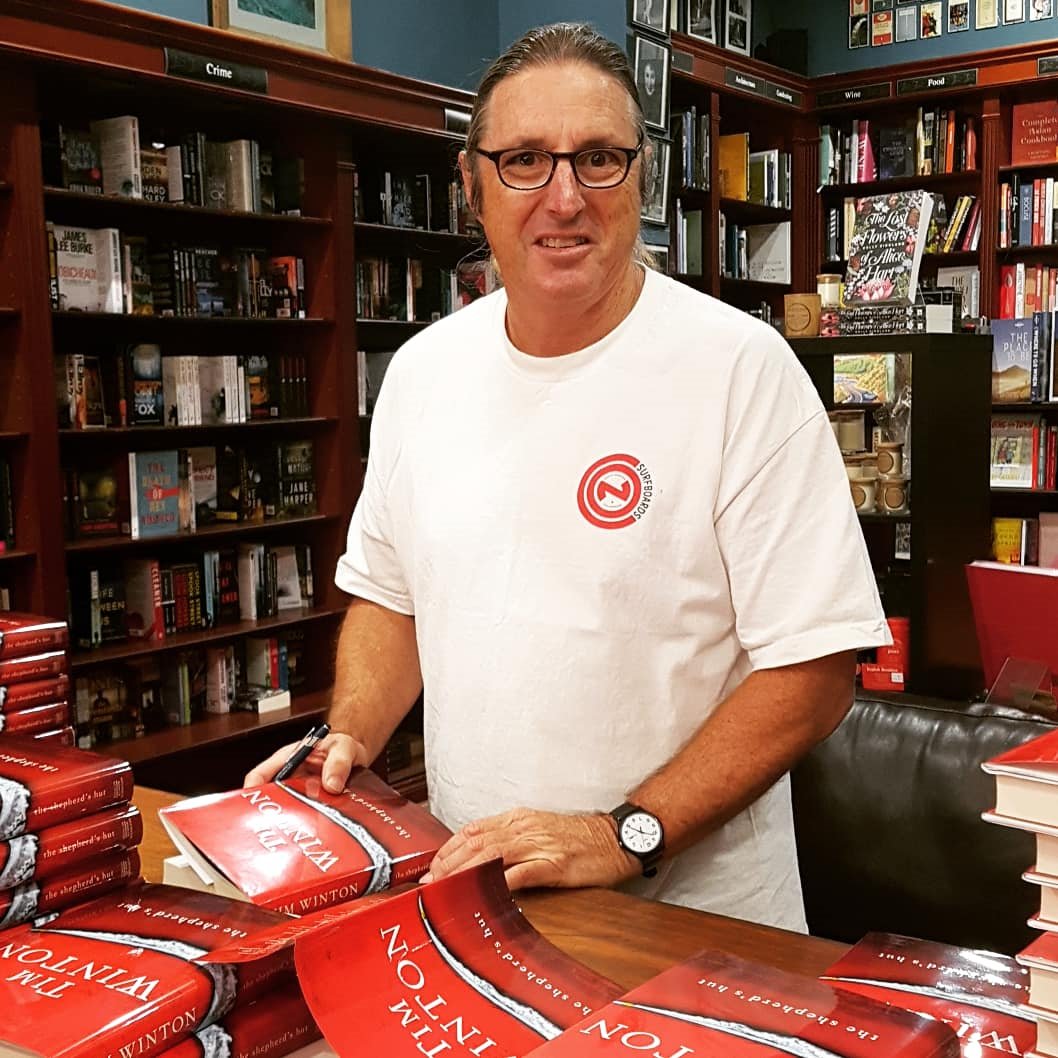 Winton signing at Imprints Booksellers in Adelaide.
Then another wave gathered force with reviews and as Winton started making appearances in shops like Imprints Booksellers in Adelaide ("The one and only Tim Winton and a whole lotta signed copies of The Shepherd's Hut. Hurry in before they race out!") and many others ("Thanks to everyone for coming out to meet Tim Winton to celebrate the release of The Shepherd's Hut in Perth and Fremantle on the weekend. Collins Booksellers Cottesloe, Lane Bookshop, Beaufort Street Books, Diabolik Books & Records, Dymocks Karrinyup, Collins Booksellers Southlands, Dymocks Garden City & New Edition Bookshop.").
"I really think it's one of the best books of the year," Scot Whitmont of Lindfield Bookshop & Children's Bookshop in Sydney, said in a radio interview. "He really is a master.... I knew this was a great book when I was still thinking about it three or four days after I'd finished it."
In the Sydney Morning Herald, reviewer Michael McGirr concluded: "After three readings, The Shepherd's Hut was still yielding the riches of its unblinking vision of hope, a vision that will renew readers for generations to come."
This week, author Cynthia Banham told the Guardian that The Shepherd's Hut was the next Australian book on her reading list: "I read my first Tim Winton novel for HSC English in 1989, An Open Swimmer, and love the rawness of his writing and the way he brings the landscapes and characters of Western Australia alive. I'm looking forward to seeing how he does this in his latest book."
I've devoured many of his books since opening my first Winton novel, Breath, in 2008. I can't believe it took me so long to "discover" a major author, but it did. Shame on me, though late converts are often the most passionate followers.
My anticipation for The Shepherd's Hut has been heightened further recently by news of the first Australian International Screen Forum, which included the New York premiere of the highly anticipated (by me at least) film adaptation of Breath, directed by and starring Simon Baker.
I think reading is a form of surfing--watching, and waiting, for the next good book, riding it out, then seeking another, even better read. Having the patience, using your skills. "The watching and waiting are the bulk of what it means to be out surfing. It's about observation as much as anticipation," Winton writes in Island Home. And now I'm waiting for The Shepherd's Hut... because I want to; because I know the wave will be worth it.
--Robert Gray, contributing editor (Column archives at Fresh Eyes Now)