The Independent Bookshops Alliance, which was originally proposed in a blog post earlier this year by Simon Key, founder of Big Green Bookshop in London's Wood Green, held a launch event and discussion yesterday at the House of Lords, featuring Key; Lord John Bird, founder of the Big Issue; and Arts Council England CEO Darren Henley.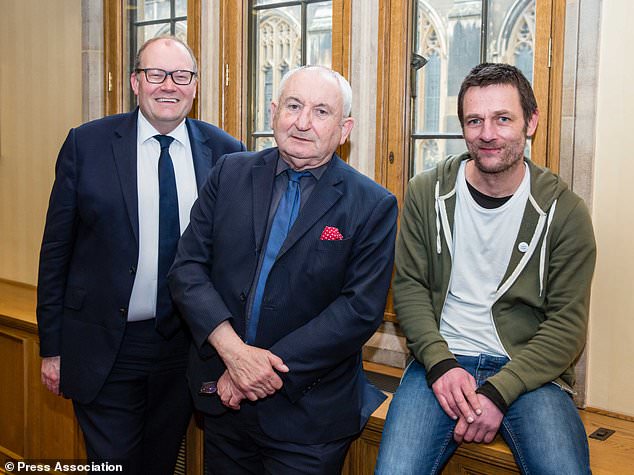 Darren Henley of Arts Council England (left), Big Issue founder John Bird and Big Green Bookshop founder Simon Key at launch of the alliance. (photo: Big Issue/PA)
"Around 130 independent booksellers have joined forces to build a 'social Amazon' capable of collectively bargaining with publishers, allowing the same access to tax breaks and exclusive editions enjoyed by retail big-hitters," the Big Issue reported.
"To me, a town, village or city is empty without the power of a bookshop," Lord Bird said. "The power to turn a high street into something that holds a vast social echo. That, through its increasing presence, will be full of readings, discussions, and (at times) nice cups of tea. That is why we have to fight for bookshops. Every last one is precious to us, our quality of our life, our literature, our public spaces and communities. We have to do whatever is humanly possible. That is why--from book thief to bookshop defender--I am in love with the new initiative called the Independent Bookshops Alliance. And I was pleased to bring them to parliament to launch their initiative.
"We must protect and proactively help these centers of social good. We must try and get communities to adopt them, for local authorities to see them as a plus in their boroughs and cities, for publishers to see them as equals. And we must link this fight to the battles to save our libraries and also to enhance schools' campaigns to make more of our children literate."
The launch also attracted support from the book world. Gail Rebuck, Random House Group chair and Labour peer, called the alliance "very timely. The role of bookshops in isolated areas is so important for bringing communities together."
Andrew Franklin, co-founder of Profile Books, commented: "As a publisher we benefit hugely from independent bookshops. I'm wholly in favor of this alliance. As a publisher, we support it."
Meryl Halls, managing director of the Booksellers Association of the U.K. and Ireland, added that indie bookshops "are frequently community heroes. We urge government to fix problems the independent bookshops face on the high street."
Arts Council England's Henley added that bookshops "are to readers what galleries are to art-lovers; they are our leisure spaces, our tourist destinations, the places we go to browse and receive inspiration. Independent bookshops need to be given a louder voice and the same opportunities as retailers in the sector to sustain such a superb cultural offer. The Independent Bookshops Alliance will help bookshops find that voice, and find ways to place more books into the hands of more people, and sustain the presence of independent bookshops around the country."