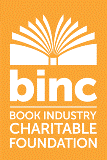 The Book Industry Charitable Foundation has launched its spring Share the Good fundraising drive, which has a goal of encouraging 50 book lovers from across the country to become Binc monthly sustaining donors. Throughout April, Binc will be sharing stories of booksellers who have been helped after life changing events, as well as messages from current supporters explaining why it is important to maintain a safety net for booksellers.
"Sharing these stories is important because they illustrate how book people are really helping each other," said Pamela French, Binc's executive director. "But more importantly these stories show how critical it is to have a place to turn when life throws you a curve ball.... We depend on our sustaining donors to keep the bookseller's safety net strong. Current sustaining donors help two booksellers through emergencies every month of the year. The aim of the Share the Good campaign is to increase the strength of the safety net so we can help even more booksellers each month."
Booksellers from sustaining donor bookstore Page 158 Books in Wake Forest, N.C., shared why they 'Think Binc' in a video the foundation released as part of the Share the Good kickoff. "Binc is a safety net, ultimately, for small and independent bookstores like our own," said Brian, one of the store's booksellers. "Let's face it: in the world of small bookstores you never know what's going to happen."