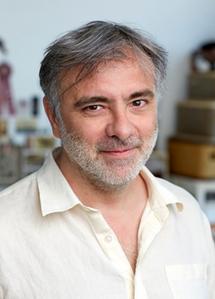 photo: Matt Carr
Sergio Ruzzier was born in 1966 in Milan, Italy and grew up reading any comic book or comic strip he could get his hands on. At age 19, he published his first comic. Ruzzier, a 2011 Sendak Fellow, has worked as an illustrator for the New Yorker, the New York Times, the Nation, Blab! and many other publications. His latest titles for children are A Letter for Leo, Two Mice and This Is Not a Picture Book! His latest, Fox and Chick: The Party and Other Stories (Chronicle, April 17), is a book of comics for early readers.

On your nightstand now:

Jenny Uglow's biography of William Hogarth.

Favorite book when you were a child:

Little Bear by Else Holmelund Minarik and Maurice Sendak.

Your top five authors:

Thomas Bernhard, Edward Gorey, Giorgio Bassani, Arnold Lobel, Elzie C. Segar.

Book you've faked reading:

Any school book.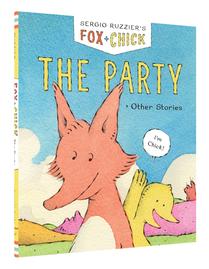 Book you're an evangelist for:

The original The Adventures of Pinocchio written by Carlo Lorenzini (pen name, Collodi) in 1881. It's painful to see how so many people are only familiar with the Walt Disney version.

Book you've bought for the cover:

What Maisie Knew by Henry James in the Anchor paperback edition. I bought it because of Edward Gorey's cover.

Book you hid from your parents:

I still can't tell.

Book that changed your life:

The Other Side by Alfred Kubin, even though it might have changed my life for the worse.

Favorite line from a book:

"I promise, I swear, I won't ever turn ten," from Maurice Sendak's Bumble-Ardy.

Five books you'll never part with:

The Nutshell Library by Maurice Sendak, Frog and Toad (the whole series) by Arnold Lobel, The Doubtful Guest by Edward Gorey and my whole collection of early 19th-century chapbooks. But who knows, maybe I'll get rid of all of them tomorrow.

Book you most want to read again for the first time:

The Heron by Giorgio Bassani is maybe the saddest book ever written.