A new American Booksellers Association-Civic Economics report called "Prime Numbers: Amazon and American Communities" shows that Amazon continues to cause an increasing loss of jobs as well as increasing losses in state and municipal revenue. At the same time, the report shows "the explosive growth of sales through its third-party Marketplace from 2014 to 2016." Because Amazon doesn't collect sales tax on much of this business, "Amazon's sales tax avoidance strategy has continued despite well-publicized agreements with American states," the report stated.

ABA CEO Oren Teicher emphasized this point, saying that "while Main Street retailers won a significant victory when Amazon began collecting sales tax, the accelerating growth of its third-party sellers has continued to rob cities and towns of needed sales tax revenue. This shortfall cuts the revenue necessary for schools, first responders, and infrastructure, and continues the shift of billions of dollars of retail away from Main Street, causing a staggering loss of jobs to the U.S. economy."

The report shows that Amazon's estimated total U.S. retail sales in 2016 of $130 billion "represent 44,000 empty storefronts and 637,000 displaced retail workers, only minimally offset by Amazon's employment in distribution facilities." In addition, third-party Marketplace sales rose to 56% of Amazon U.S. retail sales in 2016 from 46% in 2014; in 2016 alone, those third-party sellers didn't collect as much as $5 billion in applicable state and local sales taxes.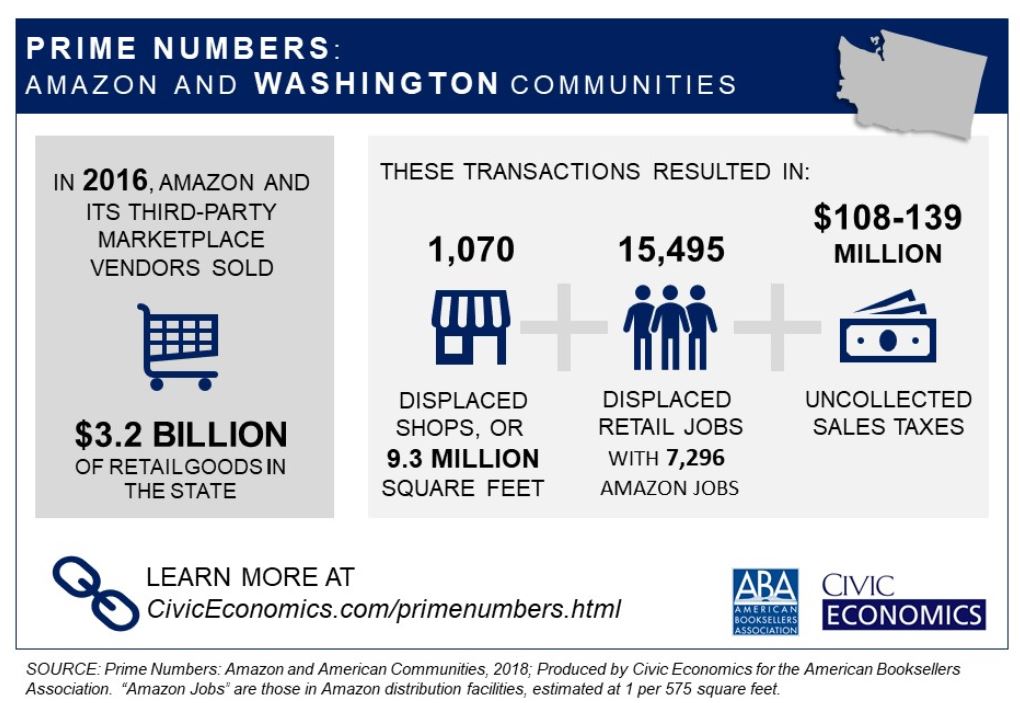 The effect of increasing "online sales in general and Amazon in particular has had a visible impact on American communities, exhibited by the much-discussed 'retail apocalypse' as retail activity increasingly moves from commercial districts to industrial parks," according to the report.

Teicher added: "Online retail is a fundamental reality of the 21st century, but advances in technology don't eliminate the fact that all businesses should be competing on an even playing field, and that elected officials must ensure that local businesses--which do much more to sustain a community's long-term economic health--get the same resources and benefits given to large corporate retailers."

The report is available online and includes detailed information for each state and the District of Columbia, allowing readers and policymakers to see for themselves how their community is affected. Booksellers are encouraged to share this report with their customers, neighboring businesses, area shop-local organizations and local officials. Booksellers can visit the New Localism Toolkit for sample social media posts and an updated infographic showing how Amazon impacts Americans and their communities. State-specific letter templates that booksellers can send to legislators are available in the Antitrust Action Kit.