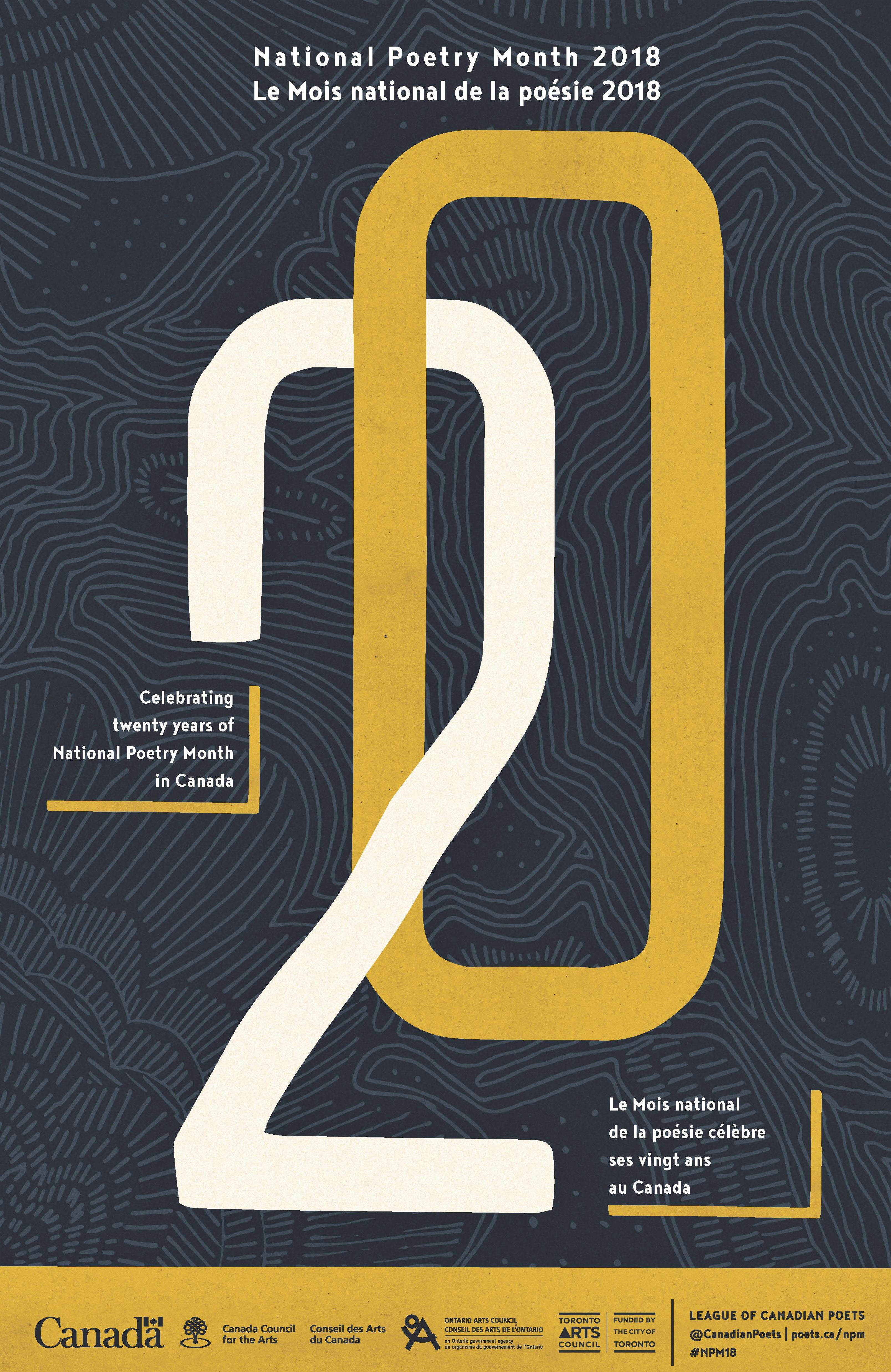 Can poetry be a numbers game? Sure. Why not? Let's start with the number 20. This year marks two decades since the League of Canadian Poets held its inaugural National Poetry Month "to celebrate poetry and its vital place in Canada's culture." The Academy of American Poets launched the first NPM in the U.S. in 1996.
For 2018, the LCP is "letting you take center stage this year to celebrate National Poetry Month in ways that are meaningful to you! We will be sharing some contents, lists, and recommendations, but more than anything we can't wait to see what Canada's biggest poetry fans will celebrate this April. What will you read? What events will you organize, attend? Will you start your own poetry writing project? Will you write your first poem? Will you share your poetry on stage for the first time?"
By my calculation, poetry readers matter as much as poets do, though the theory may be tempered slightly by my personal history as a bad poet, if good reader, of poems. Nonetheless, I value the chance to discover poets I haven't read before, and Poetry Month increases those odds and opportunities.
The Star, for example, recommended "new books to kick of National Poetry Month"; and 49th Shelf "decided to go back in time 20 years to 1998 and remember some of the outstanding poetry releases of that year. We've highlighted the winners of some of Canada's most notable poetry prizes from 1998 and we are so excited to fall in love with these works--again--with you."
There is also poetry in statistics, as Mary Cornish (who wasn't Canadian, unfortunately) explored in her poem "Numbers." It begins:
I like the generosity of numbers.
The way, for example,
they are willing to count
anything or anyone:
two pickles, one door to the room,
eight dancers dressed as swans.
In Canada, the writing and reading of poetry appears to be good business for some. BookNet Canada's The Canadian Book Market 2017 reported that for the second year in a row, unit sales in the poetry category increased significantly, led by Canadian poet Rupi Kaur. Her book The Sun and Her Flowers sold the second-most in Canada in terms of volume in 2017, while her debut collection, Milk and Honey, continued to perform well.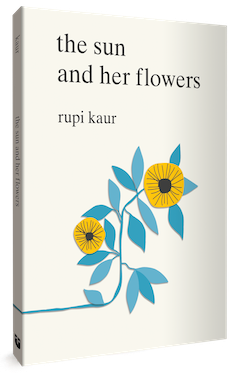 Poetry sales increased 79% in 2016 compared to 2015, and between 2016 and 2017 units sold increased by another 154%. During poetry's slowest week in 2017, 3,907 books were sold, while the slowest week in 2016 generated only 1,715 book sales. The category represented more than 1% of all print unit sales in Canada last year, compared to 0.4% of the market in 2016.
On BookNet Canada's blog, Kira Harkonen offered perspective in a post headlined "#NationalPoetryMonth: Rupi is the new Rumi":
"We are in the midst of a poetry renaissance, and it's all thanks to the Internet," she wrote. In 2015, at the age of 22, Kaur published Milk and Honey. "Her poetry debut took the Internet and the publishing world by storm. She and other so-called Instapoets, such as Lang Leav, Nayyirah Waheed, Warsan Shire, Tyler Knott Gregson, and r.h. Sin took over bookstores everywhere, largely thanks to social media. In a world of 140 characters or less, these poets are finding a way to be heard."
According to The Canadian Book Market 2017, 93.45% of poetry books sold in 2017 were paperbacks. Of poetry books sold in this format, the top 10 were all by millennial poets. Comparing top 10 poetry book rankings since BookNet started collecting sales data in 2005 until the year before the publication of Milk and Honey (2005-2014), Harkonen observed that the "so-called Instapoets have completely knocked all literary classics from the list," adding that more traditional poets "have been bested by the powers of Instagram (for now, at least)." She also noted with pride that "Canadians love reading Canadian poetry! Hooray! Both lists are topped by notable Canadian poets: Leonard Cohen, Rupi Kaur, and Atticus."
Cohen, I suspect, would have been amused, and not displeased, to still be counted among these poets ("Thousands").
Here's a final number. On Tuesday, House of Anansi Press tweeted about the Anansi Poetry Project, "an ideas series that takes you inside the mind of a poet." This led me to another number--one. As a reader, I discover one poet at a time. What really counts during National Poetry Month, and beyond, is a simple, kind of sacred process. I didn't know Emma Healy's poetry before this week. Soon, however, I'll be reading her recently published book, stereoblind. Here's a taste:
Still, we understand the greater meaning: shards refusing to make a pattern, tiny mirror that fails to focus in small the whole of the great room. We know, too, without needing to be told that while some people might be born to be with others, others still are built to spend their nights like this, tracking a past that isn't theirs with antique, glitching equipment. Which kind are you? Stop, enhance.