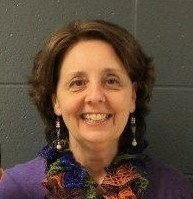 Lori Tucker-Sullivan
Lori Tucker-Sullivan, longtime executive director of the Independent Booksellers Consortium, is leaving the IBC to become program manager with the Goldman-Sachs 10,000 Small Businesses program in the Office of Economic Development at Wayne State University in Detroit, Mich. She will take, she wrote, "the skills I've developed working with independent bookstores, along with my passion for small business and for the city of Detroit, and put them to use helping the small business owners that are rebuilding my hometown."

She also indicated that it is difficult leaving the IBC after 18 years: "They are the best people I've ever worked for and I have learned so much from them. They have been mentors in work and in life and have supported me through the most difficult of times. It is a group of brilliant and strong women and men who define what it means to make a right livelihood. They have rebuilt their communities, weathered countless difficulties, and are the very best examples of doing well by doing good. They are extended family and I will miss them, until I see them on book tour!"

The IBC is a buying and information-sharing cooperative made up of some 25 independent bookstores around the country. It is seeking a new executive director, who will work part-time from home. For details about the position, see our Job Board listing below.