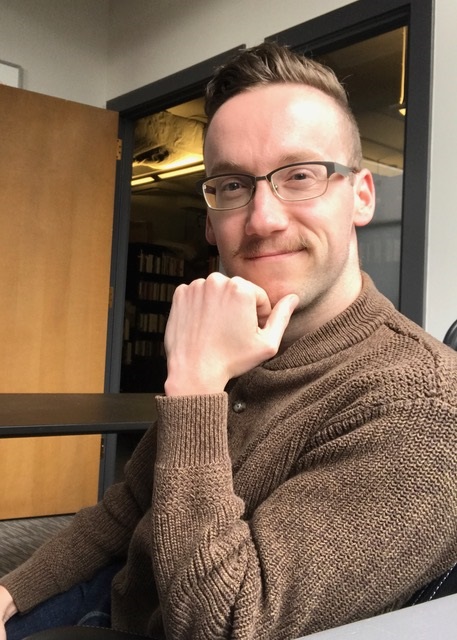 Dave Wheeler is Shelf Awareness's associate editor and manages the "Reading with..." column. He started slinging books at 16, as a library page in his hometown. Since then, he has gone on to be a bookseller at both Village Books in Bellingham, Wash., and Elliott Bay Book Co. in Seattle. He wrote a poetry collection called Contingency Plans, and has written essays for Catapult, the Stranger and the Morning News. Stay tuned for more Shelfers featured here in the coming months!

On your nightstand now:

I'm perennially midway through numerous books at once. In earnest, though, I am reading Mattilda Bernstein Sycamore's novel Sketchtasy (forthcoming from Arsenal Pulp), as well as a Knopf biography of the Houston-based arts power couple John and Dominique de Menil, Double Vision. I'm also working my way through Gary Atkins's Gay Seattle, a history from 1893 through the 20th century. In between, I've been enjoying essays by David Rakoff in Don't Get Too Comfortable and am finally getting around to Tales of the City by Armistead Maupin.

Favorite book when you were a child:

When I was in the fourth grade, I happened upon a crusty old copy of Go to the Room of the Eyes by Betty K. Erwin. It's a 1969 chapter book now out of print, about a family who moves to Seattle's Capitol Hill from the suburbs. The kids hate the city and their big old musty house, but they soon discover a spooky scavenger hunt game called "Go to the Room of the Eyes," invented by the kids who used to live there. It's a bit like The Egypt Game by Zilpha Keatley Snyder, but for the first time in my life a book was set in a place I had been to! I was so excited I told my teacher, who then read it to the whole class the following month. This was the first time I ever sold a book!

Your top five authors:

Hanya Yanagihara: somehow she's written two perfect, back-to-back masterpieces--The People in the Trees and A Little Life. And I've read them both twice. Not to mention, her Instagram is gorgeous!

Bill Hayes: Insomniac City has definitely brought his work to a lot of people's attention--including mine! And I have read everything since. His writing is magnetic and thoughtful, funny and insightful. And his blend of the personal, historical and scientific makes you walk away feeling like you just had the most fascinating conversation of your life!

Hari Kunzru: nobody bends reality quite like he does, and his characters are always such fascinatingly empathetic figures, even when they're cruel or misguided. Gods Without Men hooked me, and I've been gobbling up his work ever since.

D.A. Powell: his poems are such delicate slices of pleasure and pain that remind me that we cannot truly appreciate one without the other. I came to his work through Chronic and absolutely adore Useless Landscape, or A Guide for Boys.

David Rakoff: he easily wins the award for author with the sexiest voice, and "The Love that Dare Not Squeak Its Name" will go down as one of the most delightful readings of Stuart Little ever. Rakoff's insight and humor has buoyed me through more than a few trials and tribulations. May he rest in peace.

Book you've faked reading:

I spent weeks handselling Zadie Smith's NW right when it came out, but I had quit reading it after 75 pages. Her style just did not click with me, and as much as I wanted to join the zeitgeist in adoration of her work, I just couldn't manage it. Several years later, a friend who is completely enamored of her convinced me to give the novel another try. I eventually finished it, but I'll be okay if I never read another.

Books you're an evangelist for:

There are two: A Little Life by Hanya Yanagihara and Insomniac City by Bill Hayes. Chances are I will work one or the other into conversation within the first hour of meeting someone. They're wildly dissimilar at first blush, but when I think about it, they both depict the male interior life with such breathtaking nuance. Lots of books are about men, sure. But so few are as resilient, vulnerable, hopeful and poetic as these.

Book you've bought for the cover:

I remember buying the novelization of Star Wars: Episode I in hardback as a kid--because it had Ewan McGregor on the cover. I don't think I ever bothered to read it.

Book you hid from your parents:

When I was a teenager, I'd often slink through bookstores to read the juicy bits of Jake Logan westerns. These were cheap paperbacks in a series of men's fiction, published by Playboy Press and depicting the cowboy adventures and sexual exploits of one John (*ahem*) Slocum.

Book that changed your life:

There have been many, but let's go with Till We Have Faces by C.S. Lewis. It's one of very few books I've reread numerous times. My first encounter was in high school, when I needed a challenging alternative to the prescriptive religious literature I grew up on. The next time, in college, it opened my eyes to the varying shades of love people can have for each other. Subsequent readings have further reconfigured the way I see the world and relationships. It's really a remarkable work of fiction.

Favorite line from a book:

"Perhaps you who spring from the gods love like the gods. Like the Shadowbrute. They say the loving and the devouring are all one, don't they?"-- from Till We Have Faces

Five books you'll never part with:

My bound manuscript of A Little Life, dog-eared galley of Insomniac City, and marked up Till We Have Faces from college. Also: the V&A Museum coffee-table book for the David Bowie Is exhibit, and Don Paulson's An Evening at the Garden of Allah--a now-out-of-print history of the 1940s gay cabaret in Seattle.

Book you most want to read again for the first time:

Without question, Alif the Unseen by G. Willow Wilson is top of my list. I don't read many techno-thrillers, but toss in a heavy dose of fantastical mysticism and I am all yours. A pulse-pounding adventure with this many plot twists should come with some kind of warning, but I am so glad it doesn't. I cannot wait for her next novel.