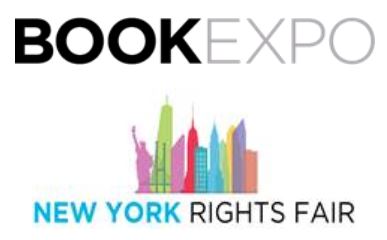 BookExpo and the New York Rights Fair have agreed for NYRF to become the official rights fair of BookExpo, effective this year. The deal allows the two entities, they said, "to work together to offer the entire publishing industry the perfect gateway to the U.S. publishing market, including increased access to resurgent U.S. bookstores, and more opportunities for rights professionals to embrace the explosion in new media and rights opportunities."
Starting in 2018, NYRF and BookExpo will offer the following to all attendees:
NYRF badge holders will have full access to the BookExpo exhibition floor
BookExpo's Rights Center will move to NYRF and will become the official Rights Center of BookExpo. Rights-oriented exhibitors will have the option to move to premium space at the NYRF, located at the Metropolitan Pavillion on W. 18th St. between 6th and 7th Avenues.
BookExpo attendees with a rights badge designation will have full access to NYRF
Shuttle buses will be provided between BookExpo and NYRF
Information for both NYRF and BookExpo will be available in all directories and websites for both shows
"This relationship was born for the common goal of best serving the publishing industry," said Antonio Bruzzone, general director of BolognaFiere, which owns NYRF with Publishers Weekly and Combined Book Exhibit. "In our experience as organizers of the Bologna Children's Book Fair, we have always focused on the rights market, which is also the core of our engagement in the creation of NYRF. Today the partnership with BookExpo opens new and exciting opportunities to better support the dialogue between international and American publishing."
Ed Several, senior v-p, Reed Exhibitions, commented: "Over the past year, BookExpo has undergone a reimagination to offer more of the core values that attendees and exhibitors are looking for. We ... see this joint agreement as an opportunity to better serve the publishing industry."