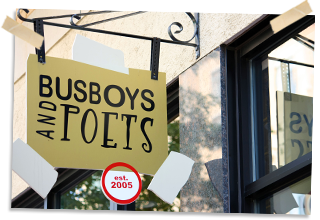 A Denver developer's plan to remake the historic Rossonian Hotel in the Five Points neighborhood includes an unusual addition: in an adjoining lot, the company will put up "a nine-story, mixed-use building that will be anchored by the first non-Washington, D.C.-area location of Busboys and Poets," the Denver Post reported.

The project was presented last night by Palisade Partners, headed by the aptly named Paul Books. The remade hotel, which has been vacant for years, will become a boutique hotel with a basement jazz club and ground-floor restaurant and lounge that will be called Chauncey's, in honor of project partner Chauncey Billups, a retired star of the Denver Nuggets who grew up in the area. In part, the Rossonian Hotel development aims to address the rapid gentrification of the historically African-American neighborhood.
Billups said: "Like all of you guys, I've seen the city change in a major way. I don't think it's a negative thing. The only negative thing about it is if they buy it all up and don't partner with us."
According to the Post, "Books credited project partner Haroun Cowans and previous Rossonian owner and longtime Five Points developer Carl Bourgeois for starting the dialogue that got Busboys and Poets involved. Once open, the business will host inclusive programming with a 'strong African American base,' he said."

Founded in 2005 by Andy Shallal, Busboys and Poets has six locations in the District of Columbia, Maryland and Virginia that are combination restaurants/community centers/bookstores. Early on, Teaching for Change operated the book sections of Busboys and Poets. Then for several years, Politics & Prose sold books in Busboys and Poets, but phased those out last year as Busboys and Poets began its own bookselling operations at all locations.