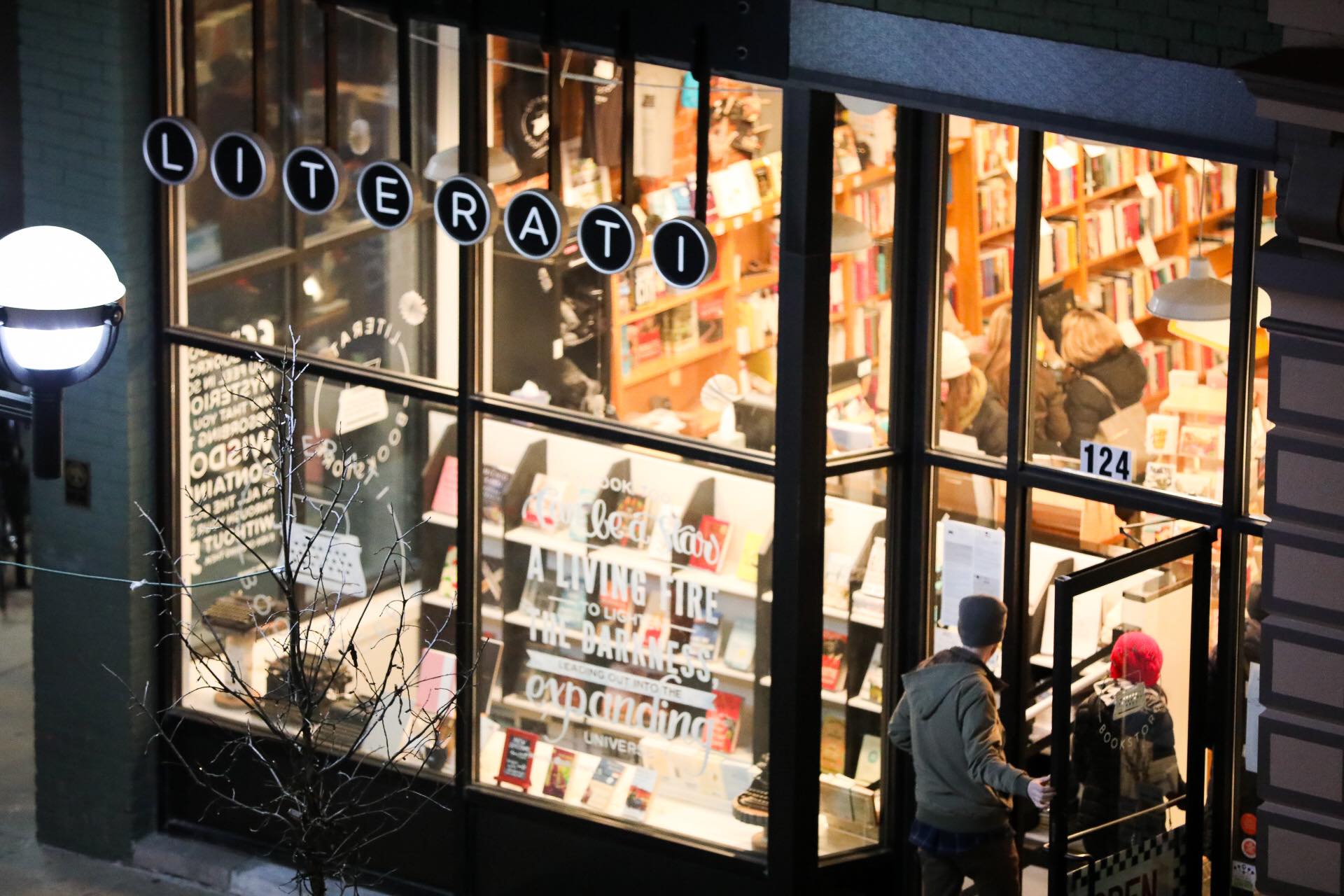 John Ganiard, events manager at Literati Bookstore, Ann Arbor, Mich., spoke with All About Ann Arbor to share "exactly how he manages to do all he does for the store." Among our favorite exchanges:
What led to you getting the job as events manager at Literati? Had you had prior professional experience in either events or in the book publishing world? Both?
When Literati opened in 2013, Mike and Hilary, Literati's owners, had a hand not only in all the day-to-day operations of the store but in all the things they wanted Literati to feature, hosting and personally running author events included. That was a lot for two people, in the first year of running a business. But from our initial bookselling staff, many of whom had actual bookstore experience (I did not), a lot of core roles developed naturally. (Where would the store have been in those early days without its Borders veterans? Way more stressed out!)
I was working as a part-time bookseller, finishing up my MFA at the Helen Zell Writers' Program up the road, and deciding whether or not to move out of state. I offered to help out with events, and it grew from there. I had experience speaking in front of groups of people, that was maybe the start and finish of my pitch at the time. Publishing is another big, wonderful world and I'm still learning about it five years in.
I watched The Literati Story and absolutely loved it. Mike mentions that you write the best author introductions at these events. Can you talk about your process in drafting those? Do you have a writing process that you'd care to share? For instance, are you re-writing right up until the moment of the event, or does it all flow naturally?
That was very kind of Mike. It is maybe a given that people generally read to feel a personal relationship with a book, and that that, over many other forms of reading, is just the standard reception of a book in the world--people's emotional or personal bond to it. We try to write introductions (I say "we" because other booksellers, and former booksellers, I want to point out, have routinely introduced authors, as well, and have written just amazing, lovely introductions) that explore that bond. As a store, we want to be always mindful of the power of that connection, which the book itself is forming between an author and a reader. So that's maybe kind of a highfalutin explanation. I personally just want them to be a little more than procedural, to be a useful and considerate bridge to the book and the author that you can walk over and then sort of forget about! The author is going to be a lot more exciting; they're who you came to hear. I'll usually print out the introduction and then proceed to cross out about 30% of it, thinking, "this is embarrassing, what am I doing, who do I think I am?" I don't know if that's more or less effective than any other of the standard revision methods.