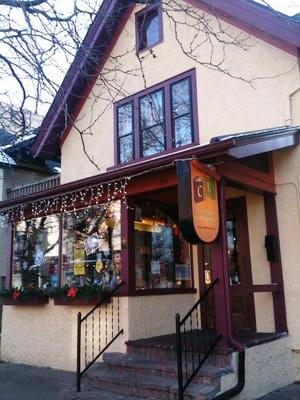 "Every now and then the Internet is used for very good purposes, and one kind act can pick up momentum and become a trend or even a movement," the Mary Sue observed in reporting on a curious case of online empathy and action that occurred this week involving Common Language Bookstore in Ann Arbor, Mich.
On Monday dadrielle wrote on Tumblr: "I saw a sad facebook post from the gay bookstore back in Ann Arbor where I used to live about how they hadn't sold any books that day so I went on their online store and bought a couple, and while you don't get #deals like elsewhere online, I'd love it if y'all would consider buying your next gay book from them instead of like, Amazon."
Other Tumblr users "began to reblog the post at a fast rate," the Mary Sue noted, adding: "It's so easy these days to get anything from Amazon, especially more obscure or niche titles at the click of a button, that we often forget to support independent businesses. But many of us have a deep-seated love for bookstores that will never be broken--and that call to book-buying arms seemed to pay off immediately."
On Tuesday, Common Language wrote on Facebook: "So a pretty amazing thing is happening. Not sure why, but we have had 28 online orders in the last 24 hours. Some kind ambassador is posting something to get people on our site. Whoever that may be (and I have a couple of hunches) thank you so much. These are the types of days when we think it just might be possible to buck the trend and survive as a Feminist/LGBT bookstore."
In an update posted Wednesday, the bookstore noted: "At last count we had 211 online orders over the last couple of days. We generally have a handful of online orders PER MONTH. And many days our in store sales are 3-5 books. In other words, this deluge is significantly more than we sell in a month. We are literally brought to tears by this outpouring....
"As I take a short break from fulfilling orders I wanted to share a few thoughts. This is transformative.... All of you did this. You made it happen. And you can be a part of making that dream come true. In fact, you can be the most important part of making that dream come true. You can be an ambassador. It was, after all, an ambassador who made this happen."
The Mary Sue added: "Strangers online have single-handedly helped to boost this wonderful shop, staffed by 'three people and one dog,' and if the orders continue past this current viral spike--the original Tumblr post, plus additions, now has upwards of 120,000 notes--we can help to expand and grow the bookstore's future possibilities."