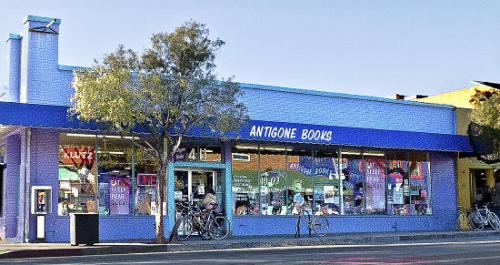 Antigone Books, Tucson, Ariz., has solidified its plans for the future. In the store's e-mail newsletter yesterday, co-owners Trudy Mills and Kate Randall, who had put the business up for sale in 2016, announced they "have a plan for the future of Antigone Books and we couldn't be more thrilled."
Three staff members--Morgan Miller, Kate Stern and Melissa Negelspach--have been working for more than a year to find a way to buy the bookstore. Recently, they were approved for an SBA loan that will cover most of their costs, but need now "to raise a bit more to take them the rest of the way and see them through to a solid start."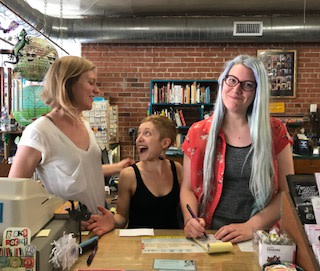 New owners (l.-r.) Morgan Miller, Kate Stern and Melissa Negelspach
"We have every confidence that this is a great next chapter for the bookstore," Mills and Randall wrote. "Morgan, Kate and Melissa are extremely talented and hardworking, and have already brought their skills and interests to the bookstore you know today. They care deeply about Antigone Books and will maintain its spirit while bringing in new energy and ideas."

To help raise the additional $32,000 they require to cover operating capital and other loan-related costs, an Indiegogo campaign has been set up. In addition, Antigone Books will host a "Big Kickoff Party" on Independent Bookstore Day, with profits from all sales that day to be donated to the soon-to-be-owners.
On the Indiegogo page, the prospective new owners noted: "With your help, it will be purchased in 2018 by three women who have been working in independent bookstores for a collective 24 years and Antigone Books, specifically, for a collective 15 years. We have had the full support of Kate and Trudy since beginning this project: In addition to working toward buying the business, we've also spent this year and a half learning every aspect of running the business--directly from the women who made it what it is today....
"The most important thing to know about us is our deep love for Antigone Books. We are extremely loyal to this store that treats its employees with respect, that has feminist, progressive, and literary roots, and that has remained independent in its feel and policies since 1973. With us--the next generation of Antigone book lovers--the store will retain its spirit while growing in ways that further promote reading, create meaningful spaces for discourse, and attract new generations of thinkers and progressively-minded Tucsonans."
The Tucson Weekly reported that Mills and Randall "will retain ownership of the building. Mills plans to stay on a month after the sale is complete and then retire, while Randall will step down and become an employee."
"Maybe you'll even see me at the cash register," she said.