The Great American Read, an eight-part series hosted by TV personality and journalist Meredith Vieira, will introduce viewers to PBS's list of the country's 100 favorite novels, created in partnership with the polling service YouGov. After the initial two-hour episode on Tuesday, May 22--featuring celebrities, authors, "superfans" and "everyday Americans"--the multi-platform initiative will begin: throughout the summer, people can vote for their favorite novels on the PBS website and by using special voting hashtags on Twitter and Facebook. PBS will also work with booksellers, libraries and local stations to launch "the most expansive national celebration of books and reading aimed at engaging multi-generational readers across multiple platforms ever created." PBS has partnered on the series with Jane Root, founder of the global TV company Nutopia and former president of Discovery Channel US; the Anne Ray Foundation; and the Corporation for Public Broadcasting.
The Great American Read was introduced last Friday at the Morgan Library and Museum in New York City. "The stories are fiction, but the excitement is real," said Bill Gardner, PBS v-p of programming and development, who opened the event. "Starting next month, public television will create a place for Americans to discuss the novels that have shaped and inspired us." The real power of public television "is in communities," Gardner said, which is why PBS will be working with bookstores, libraries and local stations "to talk and laugh and discuss and debate."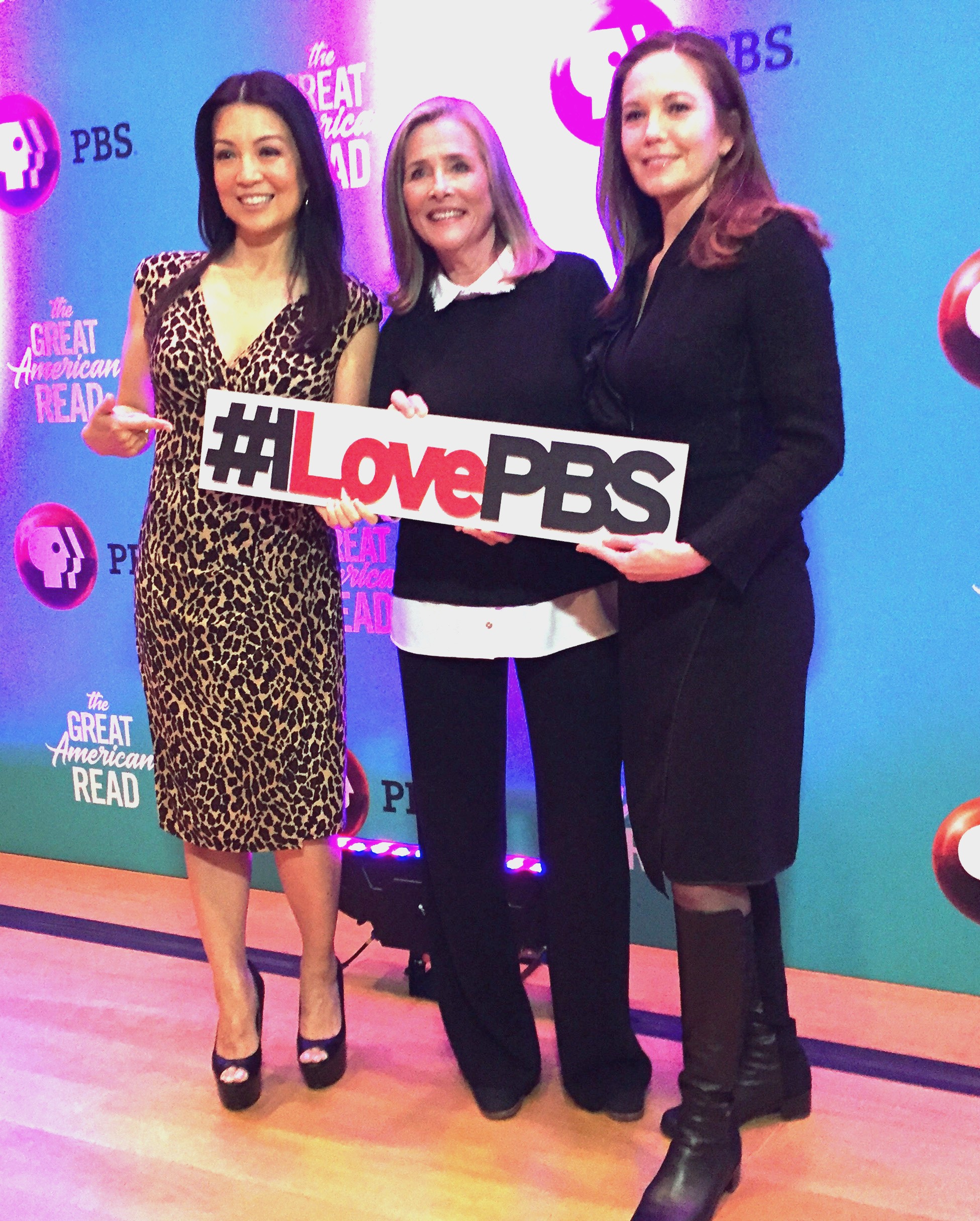 Host Meredith Vieira (center) with Ming-Na Wen (left) and Diane Lane.
Meredith Vieira expressed her excitement about finally being able to reveal the list: "This has been so hard for me--for the past few weeks, I've known what's on the list. I have a really big mouth and I wasn't allowed to tell anybody. I'm so glad today has finally come!"
"The books run the gamut from pop culture novels... to beloved children's classics," she continued, and "from science fiction adventures to historic literature... from thrillers that keep us on the edge of our seats to complex personal journeys that raise challenging social issues. Each book has earned a special place in the hearts and minds of American readers."
The 100 titles were then announced by Vieira, American Booksellers Association CEO Oren Teicher and four celebrities featured in the series: Diane Lane, Ming-Na Wen, Chris Kluwe (Beautifully Unique Sparkleponies: On Myths, Morons, Free Speech, Football, and Assorted Absurdities) and Armistead Maupin (Tales of the City). A panel discussion with Vieira, Gardner, executive producer Jane Root and Jennifer Cook, director of communications at WUCF, followed.
"They asked me if I would be interested in getting the word out about the Great American Read," former football player and author Chris Kluwe said before the event, "and I said 'Of course!' The more we as a society can read, the more we can teach [our] kids to read.... And it's good to let adults know it's okay to read books and enjoy them." When asked if he had any particular favorite on the list, he named The Hitchhiker's Guide to the Galaxy. "I also talked [in the show] about the Foundation series by Isaac Asimov," he added.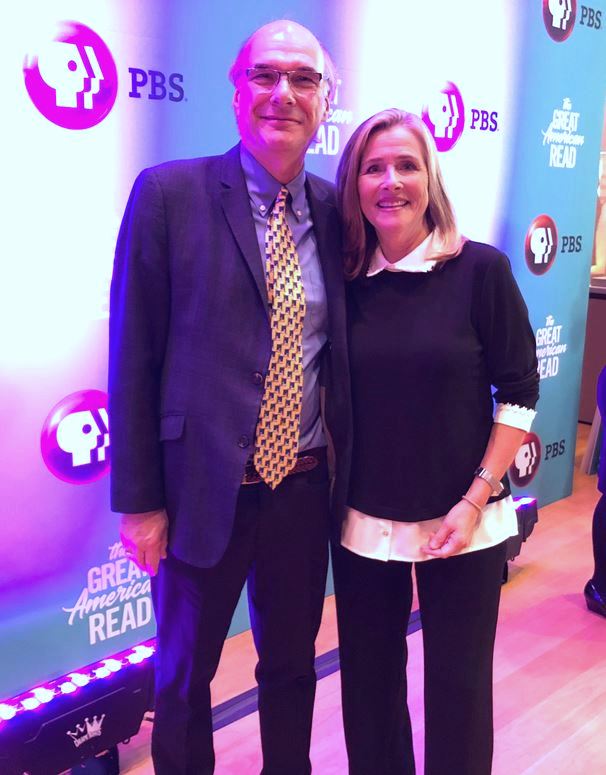 ABA's Oren Teicher and Meredith Vieira
Asked about her favorites, Meredith Vieira responded: "I love murder mysteries... so I gravitated immediately toward Agatha Christie's And Then There Were None. I've had the list for a while. I went back and reread [Christie's book] and I remembered why I love her so much as an author. I like a dead body. I don't know why that is."
Actress Ming-Na Wen said she became involved in the series because she was in The Joy Luck Club. It's therefore not a "big surprise," she said, that Amy Tan's book is "one of my all-time favorite novels. It had such an impact on my life, not just personally but professionally." She went on to say that parenting has made reading even more important to her: "I've always read to my kids and now they're avid readers. There's nothing better than seeing them wanting to open a book as opposed to streaming or... looking on their social media." Her favorite works of fiction? "I love any novel that speaks about female empowerment and the struggles women have."
The Great American Read series will feature other "familiar faces," including Gail King, Morgan Freeman, Seth Myers, Chelsea Clinton and Jenna Bush Hager. For more about The Great American Read, visit the website and see the full 100-book list here. Voting begins after the May 22 launch, and viewers are invited to vote once a day for their favorites. The series will resume in the fall with themed episodes, culminating with the finale in which "America's Best-Loved Novel" will be revealed. --Siân Gaetano, children's and YA editor, Shelf Awareness