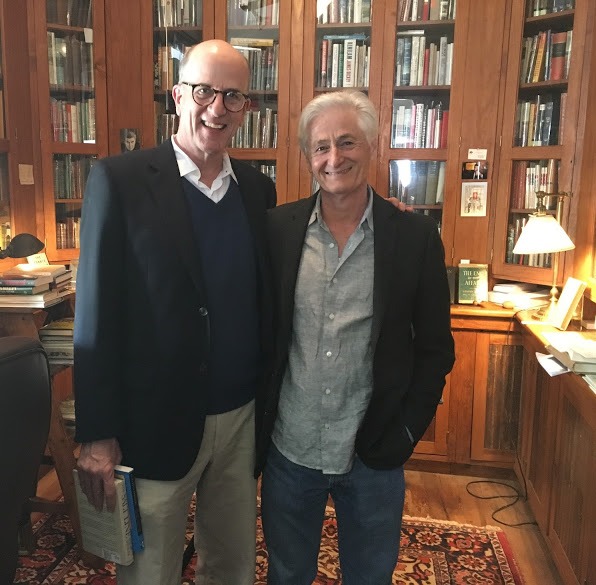 Jon Mayes (r.) with Richard Howorth at Square Books, Oxford, Miss.
After 22 years as a bookseller and then 26 years as a rep, Jon Mayes, longtime Southern rep for PGW, Perseus and, most recently, Ingram, has decided, as he puts it, "to seek out new adventures in life."

Starting as a clerk at the legendary Pickwick Bookshops in Southern California in 1970, he rose to manage and open several stores in the chain as it morphed into B. Dalton Bookseller. Lured by Brentano's, he opened its store in La Jolla in 1978.

Longing to own his own store, he and his wife opened Butler & Mayes booksellers in 1980, also in La Jolla. A decade later, PGW hired him to take over its Southern territory. Mayes found his calling and has been with them ever since. Through three different owners, the PGW brand of book distribution has endured and thrived. "Working with the fine people at PGW has been an honor and a privilege," he said.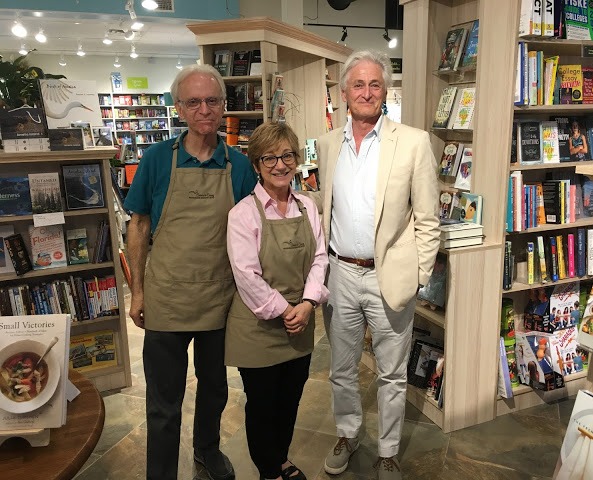 Mayes (r.) with Mark Kaufman and Donna Paz Kaufman at Story & Song, Fernandina Beach, Fla.
He has been capping his career with a three-week road trip with his wife, Linda-Marie Barrett, assistant executive director of SIBA, a trip he called it his "Grand Southern Farewell Tour." He visited many of his beloved bookstores and buyers for the last time. In a letter sent to his accounts, he wrote, in part:

"It's been an honor getting to know you all better through the years. A few of you lucky ones have had to put up with me for all 26 of them! I think I have seen almost every back road in the South on my travels trying to find shortcuts between appointments. Many were dead ends where I had to turn around, often in the middle of cotton fields in Mississippi. I've seen swamps, wild boars, and alligators blocking the road in Florida. Been driving in wind so fierce the rain was horizontal. I was the first rep to visit the New Orleans bookstores just after Katrina had devastated that beautiful city. I had to follow a snow plow to make my appointment at City Lights in Sylva, N.C., because the roads were barely drivable. Came upon the gravesite of Francis Marion in the middle of nowhere on my way to the Happy Bookseller in South Carolina. Barely outran a hurricane in Alabama driving to see the Alabama Booksmith. Stood on the banks of the Mississippi and watched the world drift by in Arkansas after seeing That Bookstore in Blytheville. I explored Davy Crockett's birth place while on my way to call on Union Ave. Books in Knoxville, Tenn. And also helped raise the best kids in the world in Lawrenceville, Ga.

"I have met and dined with so many wonderful authors, publishers, and booksellers that there are just too many to count. Met and married the woman of my dreams at the buying desk of Malaprop's in Asheville. Even got nominated for PW's Rep of the Year (didn't deserve it or make it but, hell, as they say, it was an honor to be nominated). Started a blog, AdvanceReadingCopy, that's been read more than 100,000 times by people all over the world (the Russians seem to like it a lot, for some reason). This video of some of you is a favorite of mine. I even got to sit all alone in the center of the Great Pyramid of Khufu in Egypt because of all the hotel and airline points saved up from all my travels (thank you PGW, Perseus and Ingram)....

"I cannot imagine though working with better people than those I've worked with at PGW, Perseus and finally Ingram.

"What a grand journey it's been. Thank you all so much for all your kindness, generosity and friendship; it's meant the world to me. People who write, produce and sell books are in a special and magical league of their own. I'm privileged to have been a part of it for so many years."