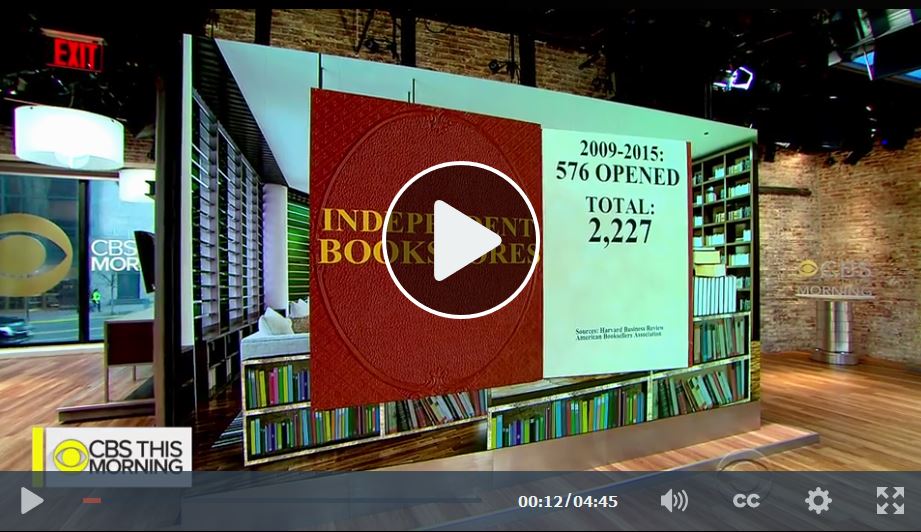 In anticipation of Independent Bookstore Day, Monday's edition of CBS This Morning spoke with several booksellers about the indie renaissance.
"We host a lot of different events," said Becky Anderson, a co-owner of Anderson's Bookshops in Naperville, Downers Grove and La Grange, Ill. "It's good for business, but it's also good for our community. A lot of times, people will say, 'You know what? You're my entertainment!' "
CBS correspondent Tony Dokoupil asked, "So, buying a book becomes an act of community-building as opposed to just a consumer purchase?"
"Yeah, oh yeah, for sure," Anderson replied. "You talk to people, have someone treat you like a friend, and something they love, they're going to share with you, too, and you're going to love it, too. You can't get that online."
David Sandberg, co-owner of Porter Square Books, Cambridge, Mass., recalled that five years ago, when he "told my friends at Google, 'I'm leaving 'cause my wife and I are buying a bookstore,' the universal reaction was, 'That is so cool. Is that really a good idea?' Because there is this narrative of we're under fire, we're getting killed. That's not the narrative now."