"I love connecting with people, especially through books," said Rachel Kaplan, events director at Avid Bookshop in Athens, Ga., in a recent video discussing her reaction to receiving a Bookselling Without Borders scholarship to attend the Turin International Book Fair in Italy this May. "And I thought, what better opportunity to meet people from around the world and learn from them?"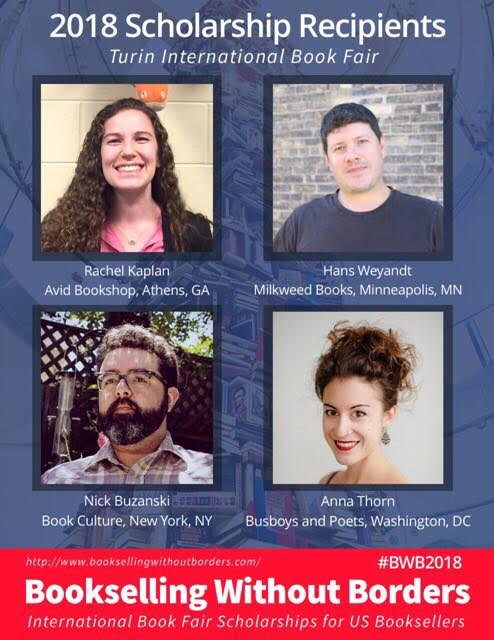 Kaplan is one of four recipients of the Turin scholarship. The others are Hans Weyandt, manager of Milkweed Books in Minneapolis, Minn.; Anna Thorn, of Busboys and Poets in Washington, D.C.; and Nick Buzanski, manager of Book Culture in New York City.
"A bookseller's responsibility is to change the world one book at a time; especially now, in the U.S., our literary appetites should transcend borders both physical and ideological," said Kaplan, after learning that she'd won one of the four scholarships. "I feel incredibly thankful to work in an industry that goes above and beyond for its literary citizens, both here and abroad, and I am inspired to be part of a movement that connects us all through the power of literature."
Bookselling Without Borders was founded in 2016 to award scholarships to U.S. booksellers so they can attend international book fairs and connect with publishers, authors, agents, editors and of course other booksellers. The organization is also providing scholarships to the Guadalajara International Book Fair in Mexico and the Frankfurt Book Fair in Germany this year.