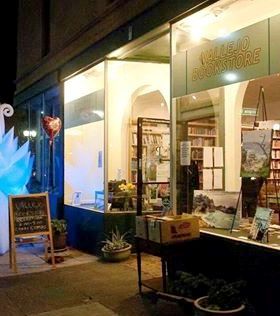 Vallejo Bookstore, Vallejo, Calif., is in the process of relocating to a larger space next door with the goal of reopening by mid-May. The Times-Herald reported that co-owners Shannon and Patrick Hartlep, who purchased the business last year, are moving to 624 Marin St., which "triples the booksellers' retail area and will result in the transformation of the once merchandise-and-knick-knack-cluttered space into a cozy, orderly, used and new book store."
"We'll be able to display more of the books we have," Shannon Hartlep said. "The old space is only 400 square feet, so we couldn't put out all the books we'd like to. Here we'll have the space to do readings.... There will be several new sections of books; almost all the genres found in most bookstores. They're still about 90%, and the rest new, and we can order titles on request." She added that the new location's "upstairs area will need to remain strictly for storage until the railings can be brought up to safety code, but may one day include cozy seating/reading areas."
"As Marin Street, along with the rest of Vallejo's downtown, continues to experience a moderate renaissance, Hartlep notes that hers will be the seventh woman-or-couple-owned enterprise on the block," the Times-Herald wrote, adding that she is "pleased to be able to add to that trend, and to the continued improving fortunes of downtown Vallejo."