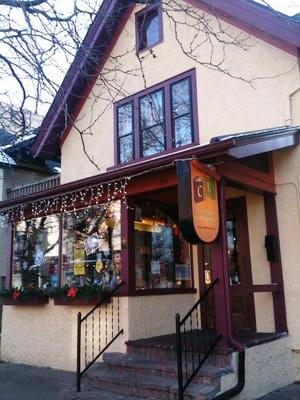 Common Language Bookstore, Ann Arbor, Mich., posted an update on Facebook regarding the amazing online order deluge it has experienced since a former customer's Tumblr post went viral recently and sparked a sustained virtual flashmob effort to support the bookshop.
"We have received over 1,000 online orders. This is stunning," Common Language reported. "We also have a lot of people coming through the doors of the bricks and mortar store. Both of these things are gratifying.... It is a lot of work, but extremely gratifying work. We just can't thank all of you enough for this amazing show of support."
In addition to fulfilling the orders, the bookshop noted that it also faces the challenge "to turn this into a sustainable business. This shot in the arm is incredible. Bills can be paid. New books ordered. Mortgages paid. But if it is just a one-time shot in the arm, we will be in the same place at some point in the future... While I certainly wouldn't complain if 300-order-days became a regular occurrence (we'd have to hire more people and get at least one more dog), it is not what I expect to happen. If we had 50-order weeks we would be able to exist into the foreseeable future.
"First and foremost, we are about a community. I don't want to become the 'gay amazon.' That means we would lose community in the name of an algorithm. I want people to come to our site, order from us, and feel every bit a part of this community as those who walk through the doors. If we can do that, we've achieved something special."