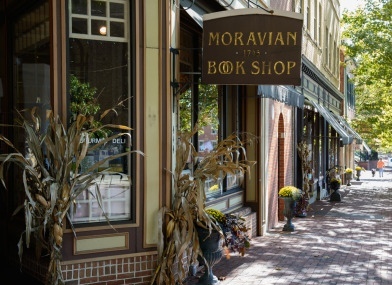 The Moravian Church Northern Province is transferring ownership of the Moravian Book Shop in Bethlehem, Pa.--widely considered the oldest continuously running bookstore in North America--to Moravian College, which will have Barnes & Noble manage the store. The Morning Call reported that when the move occurs in mid-June, "the college then will close its current campus book shop, which Barnes & Noble runs."
"Our primary bookstore will be the Moravian Book Shop now," said Michael Corr, a spokesman for the college. He added that the book section of the shop will look essentially the same, though "you'll probably see more Moravian [College] gear and more Moravian textbooks for sale."
Corr had no information on what will happen to the shop's current staff, who were notified Friday afternoon of the pending transaction. "Members of the book shop board are putting together a committee to see how it will impact employees," he said. "It probably will be a joint decision between the college and the church. I don't think there will be any drastic changes immediately. It's not a hostile takeover or anything like that."
The Moravian Church, which founded the college in 1742, opened the bookshop in 1745. The shop was moved to several Bethlehem locations before it settled at its current location 147 years ago. A second store, which opened in Allentown in 2015, closed last spring.
Moravian College president Bryon Grigsby said the school "plans to replace its Barnes & Noble-run north campus bookstore with a smaller pop-up store to handle students' needs," Lehigh Valley Live reported. Grigsby added: "Barnes & Noble and Sodexo [food service] will be be assisting us with the operations (of the Moravian Book Shop), but it will remain Moravian College's and retain the look and feel of the current Moravian Book Shop."