"In their efforts to reclaim literature for people of color and underserved communities," small, independent bookstores are "finding their industry niche," the Washington Post reported in showcasing several indies in the D.C. area.
Angela Spring is the owner of Duende District, a pop-up bookstore that exclusively carries books written by and about people of color. Working out of MahoganyBooks recently, she told the Post: "We're a town full of people of color, full of people from all over, and I think a lot about how we can best serve these communities. There are very few spaces that are not just for white people, and as a person of color, you're taught that that's just the way it is. So with Duende District, I want people of color to come into a space like this--a gorgeous, welcoming, sensory space--and feel like, yes, this is all for you."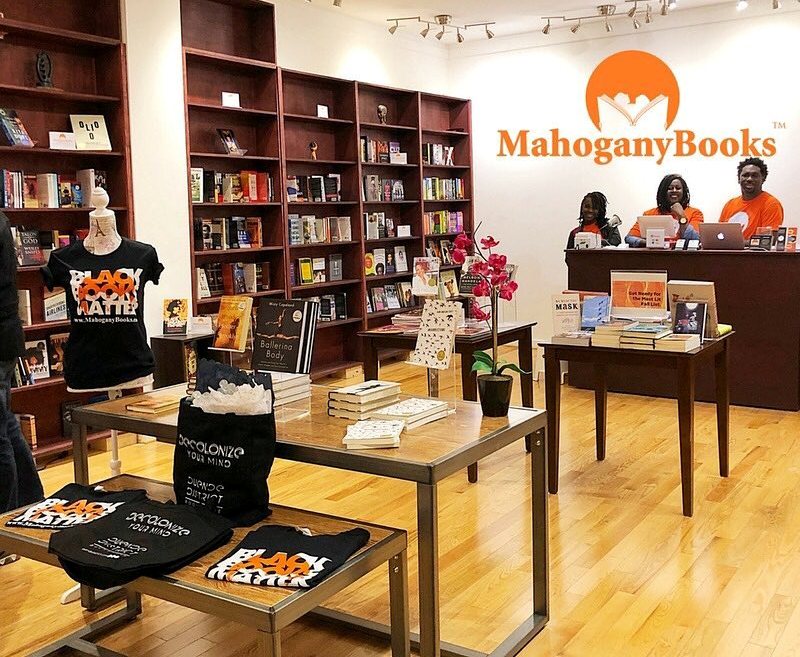 Mahogany Books
Owned by Derrick and Ramunda Young, MahoganyBooks "has a complementary mission: to provide books written for, by and about 'people of the African diaspora' to residents of Southeast Washington," the Post wrote. Derrick Young said: "The goal was always to open a brick-and-mortar book store, and once we got into that physical space, we wanted to be there for a long time. We wanted to have a community presence, something that would allow us to do events, that would be a cultural hub where people could really get into what we're trying to build."
As a pop-up store, Duende District "takes the idea of building and finding community a step further by occupying space in multiple neighborhoods throughout the Washington area," the Post wrote, noting that in Toli Moli, a South Asian bodega at Union Market, Spring's Duende District "has a shelf of books that center on the Asian diaspora: children's books, cookbooks, coffee-table reads."
Simone Jacobson, co-owner of Toli Moli, said, "It's a point of pride for me, especially the children's books, because when I was a child--my mom is from Burma and my dad is a white guy from Pittsburgh--the only book I had that even remotely resembled me or my family was a book about a Hawaiian princess. What is your sense of belonging if none of the characters you're exposed to in books, in media, in your everyday life reflect you?"
Over the past two years, D.C. "has experienced something of a bookstore renaissance," with new shops opening in most of the city's wards, including East City Bookshop on Capitol Hill; Solid State Books in the H Street corridor in Northeast Washington; and Walls of Books in Parkview. In addition, long-established Politics & Prose has opened one branch at the Wharf and will soon open another at Union Market.
Walls of Books co-owner said Pablo Sierra observed: "I think people of color, because we don't learn our own histories in the same way in school or in a lot of mainstream media, we have this hunger to understand ourselves and to understand what's going on, our histories, our place in the world."
Spring added: "Books are so important, and book culture is so important, but for so long in this country it has been the providence of white people--they were the gatekeepers. Think about all these communities here that are not white, affluent or centered around the federal government. That's the real city. That's who we're here for."