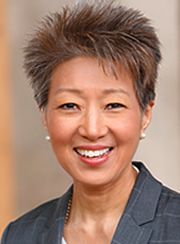 Jane Chu
Effective June 4, Jane Chu will step down as chairwoman of the National Endowment for the Arts, a position she has held since 2014. In a statement released by the NEA, she said, "I am so appreciative of having had this opportunity. The National Endowment for the Arts is doing effective and meaningful work to help the arts thrive and connect to individuals and in communities large and small, densely populated, rural, and remote in all 50 states, U.S. territories, and in every Congressional District.
"In my travels to 200 communities in all 50 states--making more than 400 site visits--I have talked with visual artists, musicians, dancers, actors, and writers who are powerfully creating America's culture. Children from all walks of life are expanding their skills artistically and academically through the arts. And arts organizations are not only providing programs for audiences, they are also seen as leaders in their communities because the arts can bring people together. I am personally inspired and impressed by them. It has been an honor and privilege to serve as the chair. Thank you for believing so strongly in the mission of the National Endowment for the Arts."
Noting that Chu's statement contained no reference to the uncertainty the NEA has faced since President Trump took office, the New York Times reported that since she was appointed in 2014 by President Obama and confirmed by the Senate, "the agency has doled out more than $400 million in grants in all 50 states. She was on the road often, making hundreds of trips to arts communities all over the country. Her efforts have earned the agency widespread bipartisan support, including from key Republican senators like Shelley Moore Capito of West Virginia and Lisa Murkowski of Alaska. In the recent $1.3 trillion spending bill, a Republican-controlled Congress actually gave the NEA a slight increase in its budget, a direct rebuff to Mr. Trump."