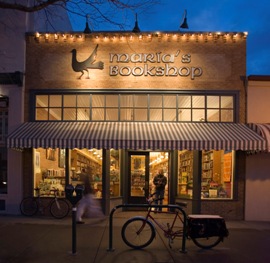 Maria's Bookshop, Durango, Colo., has been put up for sale. On the bookstore's website, co-owners Andrea Avantaggio and Peter Schertz wrote: "Fear not: Maria's Bookshop, along with independent bookstores across the country, is thriving. In fact, thanks in large part to all of you, we just completed our best year ever in 2017. The future is bright for Independent Bookselling and especially for Maria's Bookshop."
Avantaggio and Schertz said that after 20 years of owning and operating the bookstore, "we are ready to pass the opportunity on to the next shop owner. We have no doubt that with your continued support the next owners will take Maria's Bookshop past the 50-year mark.
"Durango will remain home to our family and we look forward to supporting the bookshop from the other side of the counter with all of you. We appreciate your help spreading the word. If you are interested in becoming the future owner of this cherished local business, please send an inquiry to opportunity@mariasbookshop.com."