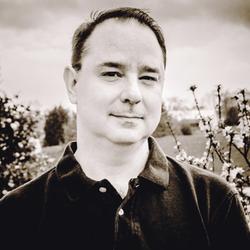 photo: Athena Scalzi
John Scalzi's debut, Old Man's War, won him science fiction's John W. Campbell Award for Best New Writer. His other books include Lock In, The Last Colony, Fuzzy Nation and Redshirts, which won the 2013 Hugo Award for Best Novel. He has two new books in 2018: the near-future thriller Head On (Tor, April 17, 2018) and The Consuming Fire (Tor, October 16, 2018).

On your nightstand now:

The Calculating Stars by Mary Robinette Kowal. (I'm reading a galley copy. It's very good.)

Favorite book when you were a child:

The Dark Is Rising Sequence by Susan Cooper

Your top five authors:

Mark Helprin, Dorothy Parker, Gregory Mcdonald, N.K. Jemisin, Douglas Adams

Book you've faked reading:

None. If I haven't read a book, I'll tell you.

Book you're an evangelist for:

Grass by Sheri Tepper. It has all the worldbuilding chops of Dune, with a fantastic (and complicated) woman protagonist.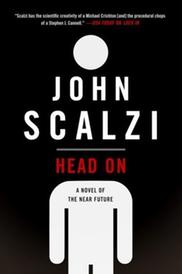 Book you've bought for the cover:

Snow Crash by Neal Stephenson (the text was pretty good, too).

Book you hid from your parents:

None. The rule was "if you can reach it, you can read it." My wife and I used the same rule for our daughter.

Book that changed your life:

Cosmos by Carl Sagan. So much excitement to explore the universe in it. Sagan is one of my heroes.

Favorite line from a book:

"This indiscriminate liquidation of cops must stop." --from Stranger in a Strange Land by Robert Heinlein

Five books you'll never part with:

Only five? Ha!

Book you most want to read again for the first time:

In Cold Blood by Truman Capote

Book of yours you're the happiest to hear people say they liked:

Zoe's Tale. It was difficult to write for the point of view of a 16-year-old girl. I'm happy when women tell me I did a good job of it.