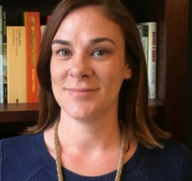 Emma Bradshaw
Effective July 16, Emma Bradshaw is joining the Booksellers Association of the U.K. and Ireland as head of campaigns, a new position, and will work on Books Are My Bag, Independent Bookshop Week, World Book Day, Academic Book Week and the BA Christmas Catalogue and more, the Bookseller reported.
The new role was created following the reorganization of the Booksellers Association earlier this year, when longtime CEO Tim Godfray became executive chair of the BA Group, a new position, and Meryl Halls, head of membership services, became managing director of the BA, also a new position.
Bradshaw has worked at Bloomsbury Children's Books for 10 years, most recently as senior publicity manager. She began her career in 2002 as a bookseller at Ottaker's before joining the publicity department at HarperCollins Children's Books in 2005.
Bradshaw commented: "Playing a part in ensuring the longevity of our thriving and individual high streets is incredibly important to me. We're very lucky to have so many knowledgeable and innovative booksellers in the U.K. and Ireland, many of whom I am fortunate enough to have worked with as a publicist. I can't wait to work with them more closely on the BA's range of wonderful campaigns."