In 2017, total net book sales in the U.S. rose 0.4%, to $14.7 billion, representing sales of more than 1,200 publishers and distributed clients as reported to the Association of American Publishers.
Trade book sales during the year rose 1.3%, to $7.6 billion, buoyed by growth of 3% in adult books, to $5.054 billion, which constitutes more than 65% of all trade book revenue. By contrast, children's/YA sales fell 2.1%, to 2.055 billion. Religious presses were down 1.8%, to $447.8 million, while university press sales rose 5.3%, to $58.7 million. Higher education sales rose 0.2%, to $3.5 billion, the category's first increase in several years, and K-12 sales were down 3.6%, to $2.8 billion. The category that grew most was professional books, which rose 8.4%, to $687.5 million.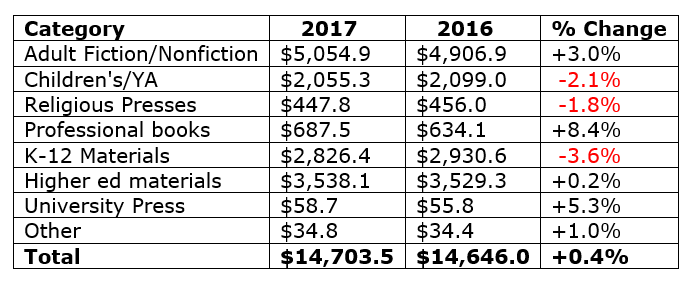 As for format, downloadable audiobook was the most striking category, with a sales gain of 29.7%, to $343.3 million, the fifth straight year of double-digit growth for downloadable audio; revenue for the category has tripled since 2012.
E-book sales were again down, off 4.7%, to $1.1 billion, falling for the third year in a row, but this decline was lower than previous years' declines. Print book sales overall rose 1%, to $5.7 billion, and hardcovers rose 3%, to $2.7 billion.