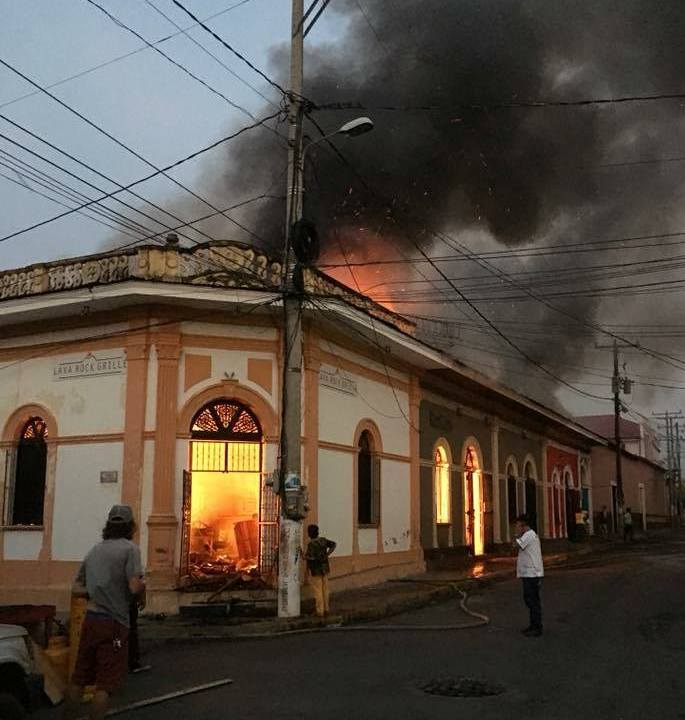 Lucha Libro Books in Granada, Nicaragua, was severely damaged by fire Wednesday night. On Facebook, the store posted: "Lucha Libro Books was burned down overnight. Complete loss. Whatever was salvageable was quickly looted. We want to thank the many, many friends we made over the years, far too many to mention here, and thank everyone for 7 amazing years. It was a dream--a frustrating one many times, as is any business in any country, but a dream nonetheless. And we thank you for helping make that dream a reality for so long. We will now refer you to our friends at Búho Books León, who we hope will continue for years to come. Thanks, everyone. We'll post more pics and info as we get it."
Early reports indicated that the blaze may have started from an electrical issue in an adjoining business, but in an update, the bookshop said: "More photos from this morning's fire at Lucha Libro Books. Apparently it was not caused by the electrical transformer as originally thought--the transformer is intact. The Granada FD is investigating. Not that we'll ever recover our loss."
Lucha Libro Books was featured in Shelf Awareness last month for its Floor Display of the Day.
Búho Books León posted: "I know that in the midst of this crisis, material loss is not the worst that can happen. But seeing our beloved Lucha Libro in Granada burn down is heartbreaking! I am so sorry for our friends in Lucha Libro Books--you have been such a good friend and support to us, and I dare even say we might not have survived without you!"
By the end of the day, Lucha Libro was expressing more hope for the future: "As difficult as it has been to see what happened this morning, we are very grateful to those who stepped in to help--many friends, many who don't know us at all--and as a result we do have some salvageable inventory. There's no way for us to bring Lucha Libro Books to its former glory, but we are exploring our options. Thank you everyone who helped out today. We hope to have some better news to share in the near future."