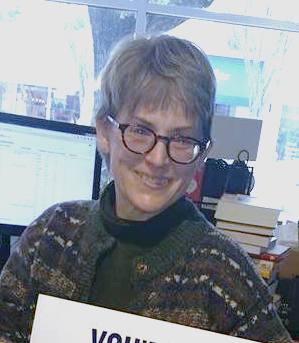 Anmiryam Budner
Bookseller Anmiryam Budner will open a seasonal bookstore called Main(e) Point Books in Islesboro, Maine, early this summer, Bookselling This Week reported. Islesboro, which is located on an island off the coast of Maine and has a year-round population of around 600 people, sees between 2,000 to 3,000 visitors during the summer months. Budner plans to operate the store between the start of summer and Labor Day.
Budner is also the backlist buyer at Main Point Books in Wayne, Pa., and though she chose the name for her seasonal store as an homage to that one, they are not officially part of the same business. Budner did tell BTW, however, that she plans to keep many things at Main(e) Point consistent with the Pennsylvania store, so that customers can order seamlessly from the latter store during the former's off-season "and not feel like it's completely different."
Budner explained: "The name selection is intended to call back to the store here in part because I want to be able to service the community in Maine from Main Point during the rest of the year. Instead of starting my own website, I'll direct people to Main Point's website for Internet ordering. Hopefully, even though the stores are independent entities, there will be some mutual benefit to the connection."
Main(e) Point Books will open in a 2,000-square-foot space that once housed Artisan Books & Bindery, which was Isleboro's only bookstore. That closed in 2016, becoming online-only, after owner Craig Olson could "no longer maintain normal retail hours" due to taking on another job while also starting a campaign to run to represent Maine's 2nd Congressional District.
Along with some of Olson's book stock still in the space, Budner will sell a selection of new books for all ages, along with cards and a smattering of gift items. She told BTW that she already has several events with Isleboro authors lined up.
Budner also called the annual "three- or four-month proposition" a "labor of love," noting that she was doing it more out of her fondness for Isleboro and its community than anything else. She said: "This is really for personal satisfaction and for community; if I break even, I'm going to be a happy person."
Main(e) Point will open in the first weeks of June.