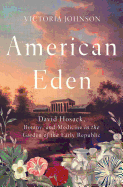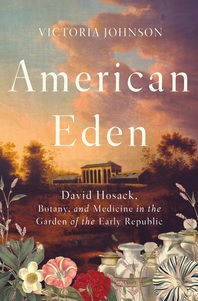 David Hosack (1769-1835) was a celebrity in his day. He was the founder of the first botanical garden in the United States, an early adopter of new medical treatments, a charismatic teacher and public speaker who started a botanical craze that echoes to the present. American Eden is an exhaustively researched, brilliant and lively biography set in the close political, social and intellectual circles of the new Republic by professor of urban planning Victoria Johnson (Backstage at the Revolution).

Hosack is a genuinely interesting figure in his own right--brilliant, adventurous, hardworking and acquainted with many of the great minds of his day. Johnson amplifies his appeal by emphasizing his relationships with Alexander Hamilton and Aaron Burr, as their family physician and as collaborator in their gardens and botanical interests.

Hosack studied at Columbia, and with some of the most brilliant botanical and medical minds of the day in Edinburgh and London at a time when medical dissection sparked riots. He built and maintained relationships with European scientists that helped establish the scientific community of his young nation.

Back in New York, he became an admired professor, founded one of the first U.S. medical journals, promoted effective new medical treatments and championed the Hudson River School of painting. He founded the nation's first botanic garden mostly out of his own pocket in what is now midtown Manhattan, modeling it on the medical research gardens he had encountered overseas. "The Elgin Botanic Garden had less in common with a beautiful city park than with the National Institutes of Health, the Food and Drug Administration, the Centers for Disease Control, and Crispr gene-editing laboratories."

Hosack and his students also ignited a national craze for botany that still echoes in the public parks and private gardens of the United States. Johnson's storytelling skills and her thorough knowledge of the period and the science makes this a book that will appeal to history lovers, botanists and gardeners alike. --Sara Catterall

Shelf Talker: The story of a visionary New York botanist, doctor and influential teacher in the energetic and competitive young United States.