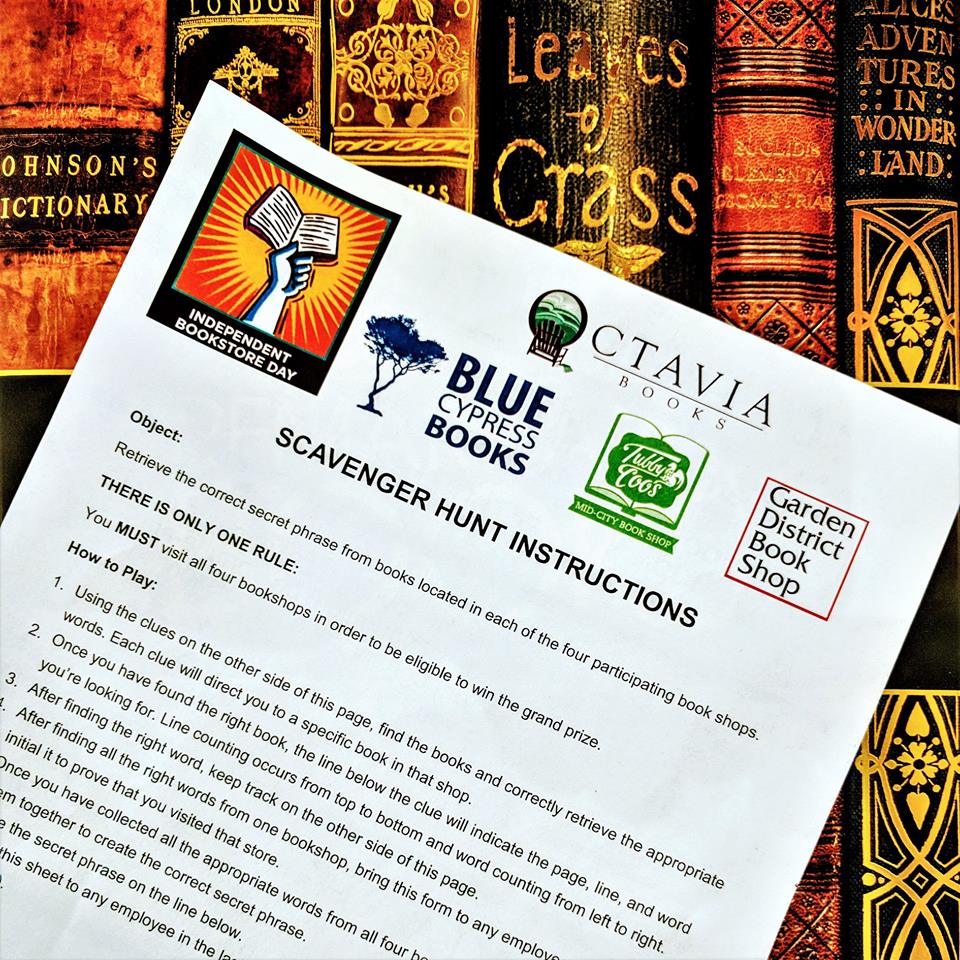 New Orleans booksellers celebrated Independent Bookstore Day 2018 this past Saturday, two weeks after their colleagues nationwide, to avoid conflicting with New Orleans Jazz & Heritage Festival. A range of activities were held at indies across the city.
Octavia Books, Garden District Book Shop, Tubby & Coo's Mid-City Book Shop, and Blue Cypress Books partnered to offer a chance to win $100 in gift certificates to booklovers who visited all four stores as part of a scavenger hunt. Exclusive IBD literary-themed books, art, and gift items were also available.
"It's finally here!" Blue Cypress posted on Facebook Saturday, sharing a pic of its sidewalk chalkboard as well as IBD goodies. "Come celebrate Indie Bookstore Day with us and our friends at @octaviabooks, @gardendistrictbooks, and @tubbyandcoos! We have fun freebies and exclusive IBD 2018 merch! Get over here!!"
In addition, the four indies joined together to give away a limited number of Blackbird Letter Press New Orleans City Notebooks (printed in Louisiana) to customers who purchased a limited edition IBD book or item or who spent $25 or more on Saturday.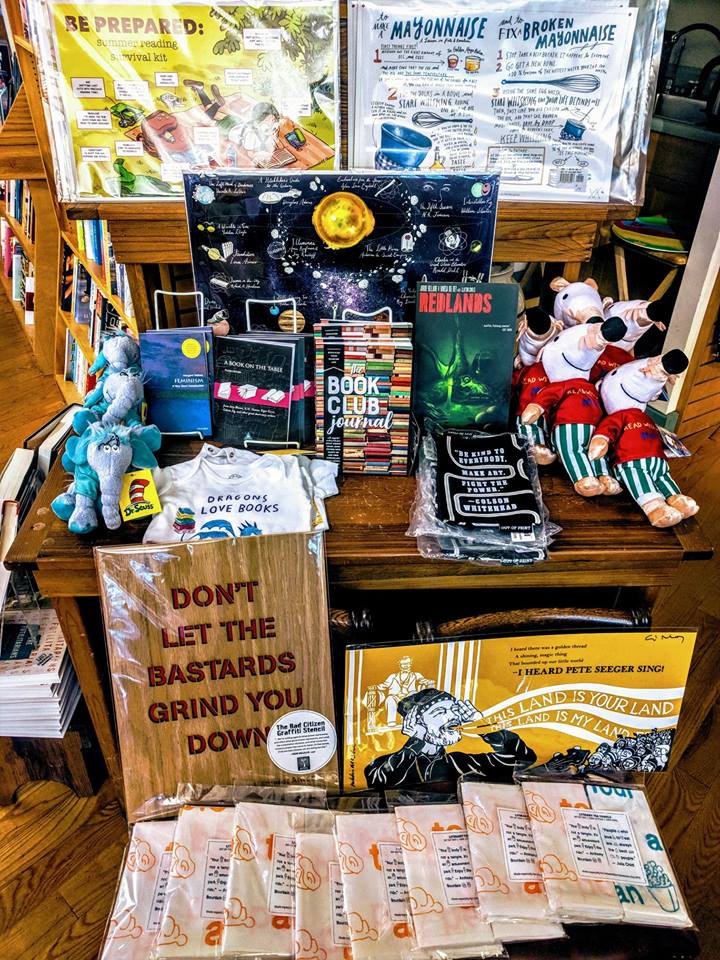 IBD display at Octavia Books.
"We had a super wonderful New Orleans Independent Bookstore Day," said Tom Lowenburg, co-owner of Octavia Books (see photos here). "The store was filled with customers, authors and activities all day. Sales were at least two-and-a-half times a typical Saturday. Most important, everyone seemed to have a fun and memorable bookstore experience.... We also enjoyed working with other local indie bookstores to put on a four-store literary scavenger hunt."
Lowenburg added that some non-traditional author moments were among Octavia's highlights: "Michael Tisserand (Eisner Award-winning author of Crazy) set up a chess board and we offered prizes for beating him. Then author Tom Piazza (A Free State) showed up with a Scrabble board and challenged Tisserand to that. They ended up playing both.... James Beard Award-winning chef Alon Shaya, who just opened his new restaurant, Saba, a few short blocks away, took time away to sign his new book, Shaya; and he brought his mother along to sit with him and meet customers.... The Book of Cheese author Liz Thorpe gave mini cheese tasting tours, while artist/author Emma Fick (Snippets of New Orleans) gave lessons on how to draw a New Orleans shotgun house."
On Facebook, Tubby & Coo's posted: "We'd like to give a HUGE THANK YOU to everyone who came out for Indie Bookstore Day yesterday! You helped us have one of our most successful ones yet. And a special thanks goes out to all the creators who participated in our panel discussions: Bryan Camp, Eva Vanrell, Jose Cotto, Michael Quess Moore, Maurice Ruffin, and Christopher Romaguera. These are important conversations to have, and we are so grateful to have folks like you in our community!"
As NOLA IBD came to an end, customer @joyerancatore shared pics of her indie bookstore pilgrimage, tweeting: "What a wonderful day in #NOLA for #IBD18!! Thank you for a fun scavenger hunt, @GDBookShop, @octaviabooks, @BlueCypressBook and @tubbyandcoos!"