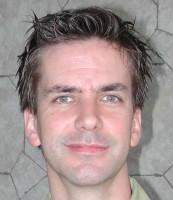 Johnny Temple
Johnny Temple, publisher and editor in chief of Akashic Books, was the subject of the New York Times "Sunday Routine" feature, which followed his weekend routine in Brooklyn with family and friends.
"One of my goals in life is to leave Fort Greene as little as possible," said Temple, who has lived in the neighborhood since 1990.
He also observed: "It's ironic that I, the publisher of Go the F**k to Sleep, would have to wrestle his kids to bed, but even at this age, it can take a while for them to go down, though it's not quite like it was when they were younger. After that, I'll have about an hour or so to myself, so I'll definitely sit down for some dedicated pre-Monday work."