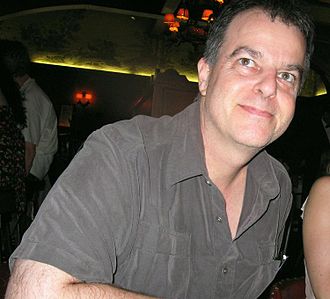 Adam Parfrey
Adam Parfrey, the founder and publisher of Feral House press, died May 10, "but what he left behind in the alternative publishing world won't be forgotten; it will continue to provoke and inspire," Tosh Berman wrote in L.A. Weekly. Parfrey was 61. "To enter Parfrey's world was like being part of a secret society headquartered in a house with hidden passageways behind the bookcase. There is the world that is 'here,' and then there's the 'other' world. Parfrey was an expert on the 'other,' and most of us readers were pleased to have him as our guide."
On Facebook, Feral House posted: "We are overwhelmed by the outpouring of love you've shown for Adam. We want you to know a few things: 1) Adam was working on a number of projects when he passed. We will shepherd them to print in the coming 12-18 months. 2) The Feral House Podcast will be speaking with Adam's friends and collaborators in the coming months. We'll be sharing those conversations with you." Feral House also asked people to share their pictures and stories about Parfrey in the Facebook post's comments section, and many did.
Boing Boing's Mark Frauenfelder described Parfrey as "one of the most interesting people I've ever met, with an encyclopedic knowledge of the arcane, the esoteric, and the unusual.... Adams' publishing house, Feral House, published a wide variety of books about subcultures, cults and mass movements, crime, sexuality, political theory, and history."
Frauenfelder also noted that Parfrey "wrote or edited excellent books about old, weird America," including It's a Man's World: Men's Adventure Magazines, The Postwar Pulps; Citizen Keane: The Big Lies Behind the Big Eyes; and Ritual America: Secret Brotherhoods and Their Influence on American Society.